A Boulder Elopement for Julie and Glen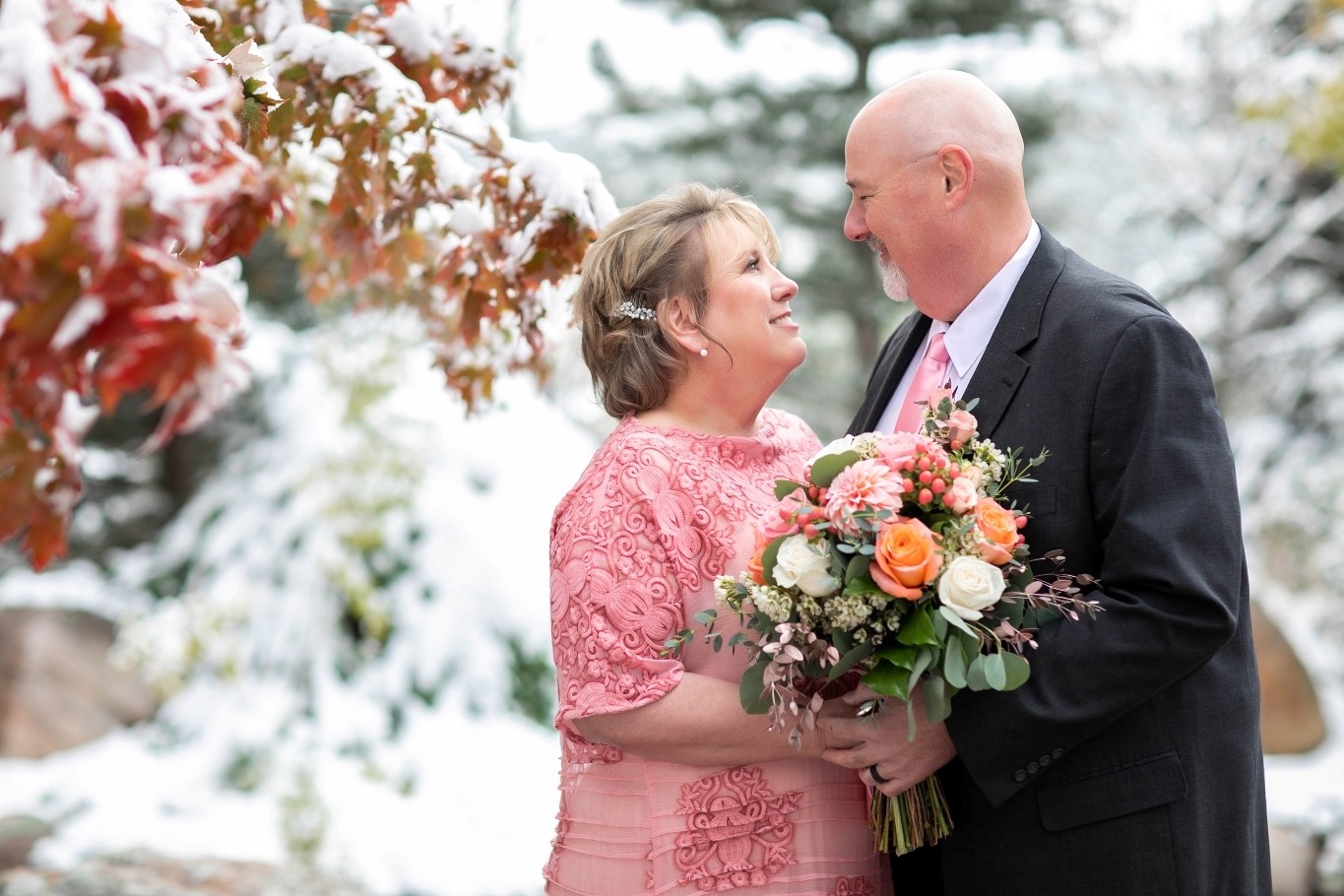 Into every life, a little snow must fall…
But in early October? Seriously?
Okay, so it wasn't the weather that Julie and Glen were anticipating, but the snow on the brilliantly colored autumn leaves (still on the trees this early in the year) for their Boulder elopement made for a stunning backdrop.
Combined with Julie's dress in coral hues and her autumn-colors bouquet, the colors were spectacular.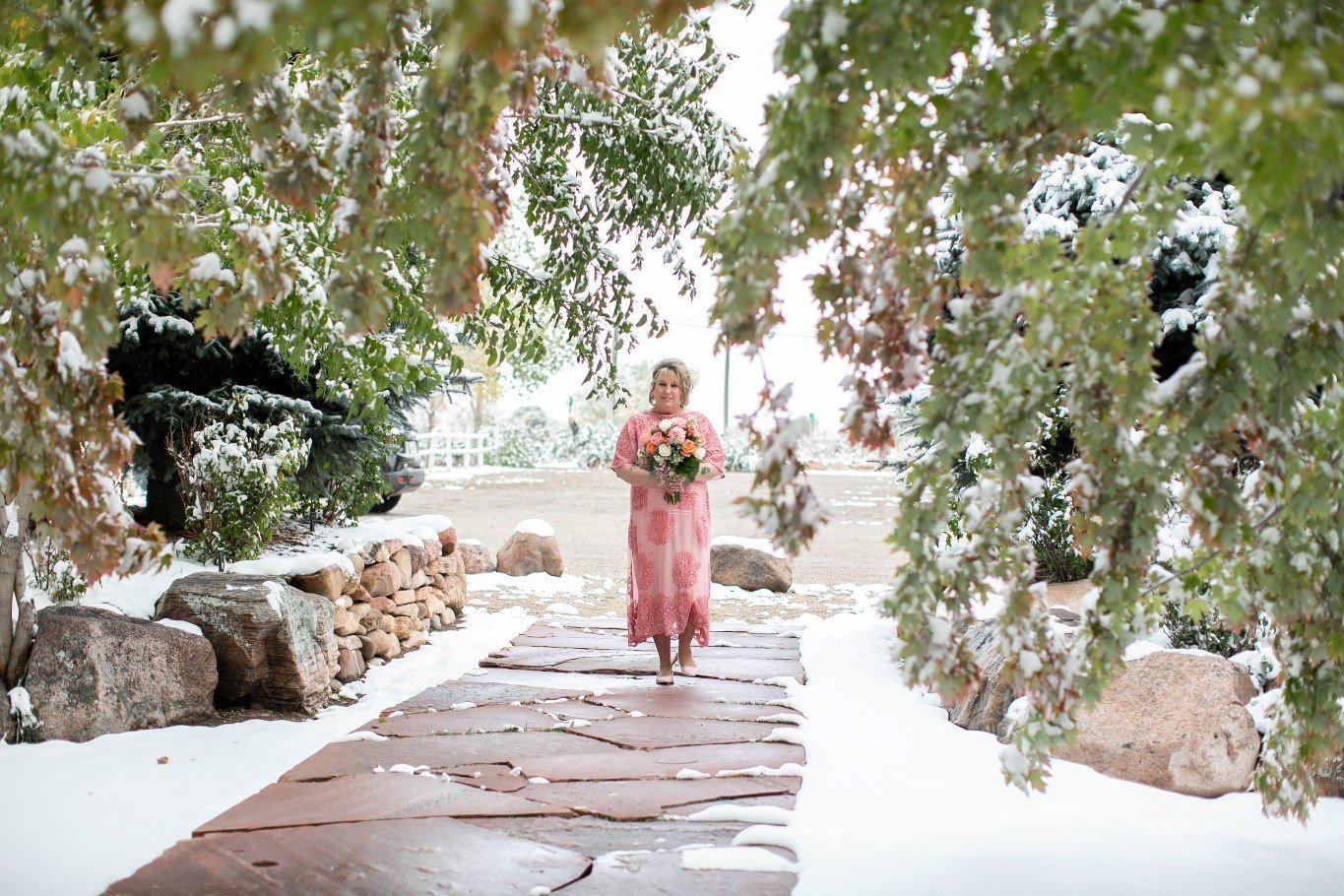 Held at our favorite Boulder elopement site, the two had the grounds to themselves as they said "I do" at the private pond and waterfall. And while Julie was admittedly confused about the weather prior to the wedding day, that's one thing neither the couple nor Blue Sky Elopements has any control over. While we had an indoor backup venue at the ready (just in case!), Julie and Glen braved the elements and their outdoor wedding turned out to be truly magical.
Julie's bouquet was a stunning mix of roses complimented by greenery.
Julie and Glen's Boulder Elopement… in their own words
Why did you choose an intimate wedding? We are both older and have both been married previously. Due to a personal tragedy, I do not handle stress well anymore, and I was attracted to Blue Sky Elopements because of the relative simplicity of the services offered. Using an elopement planning services greatly reduced the stress involved with planning a wedding.
What made you select the location you did? Maureen worked with me to learn what my preferences were for a general location and then suggested several options for me to choose from. The setting offered opportunities for beautiful photos and a gorgeous venue for the ceremony itself.
What words best describe your wedding day? Magical, stress-free, fun, perfect.
What was your favorite part of your wedding day? Although I wanted my wedding to take place on a sunny day with the mountains visible in the background, the first snowfall of the year occurred on our wedding day. The newly fallen snow on the autumn leaves made for spectacular photos.
What was the best thing about having an intimate wedding? I loved the intimacy and privacy of it just being the two of us.
Any advice for other couples planning to elope? Use an elopement specialist to help you plan your day. They are experts in helping with suggestions as to location.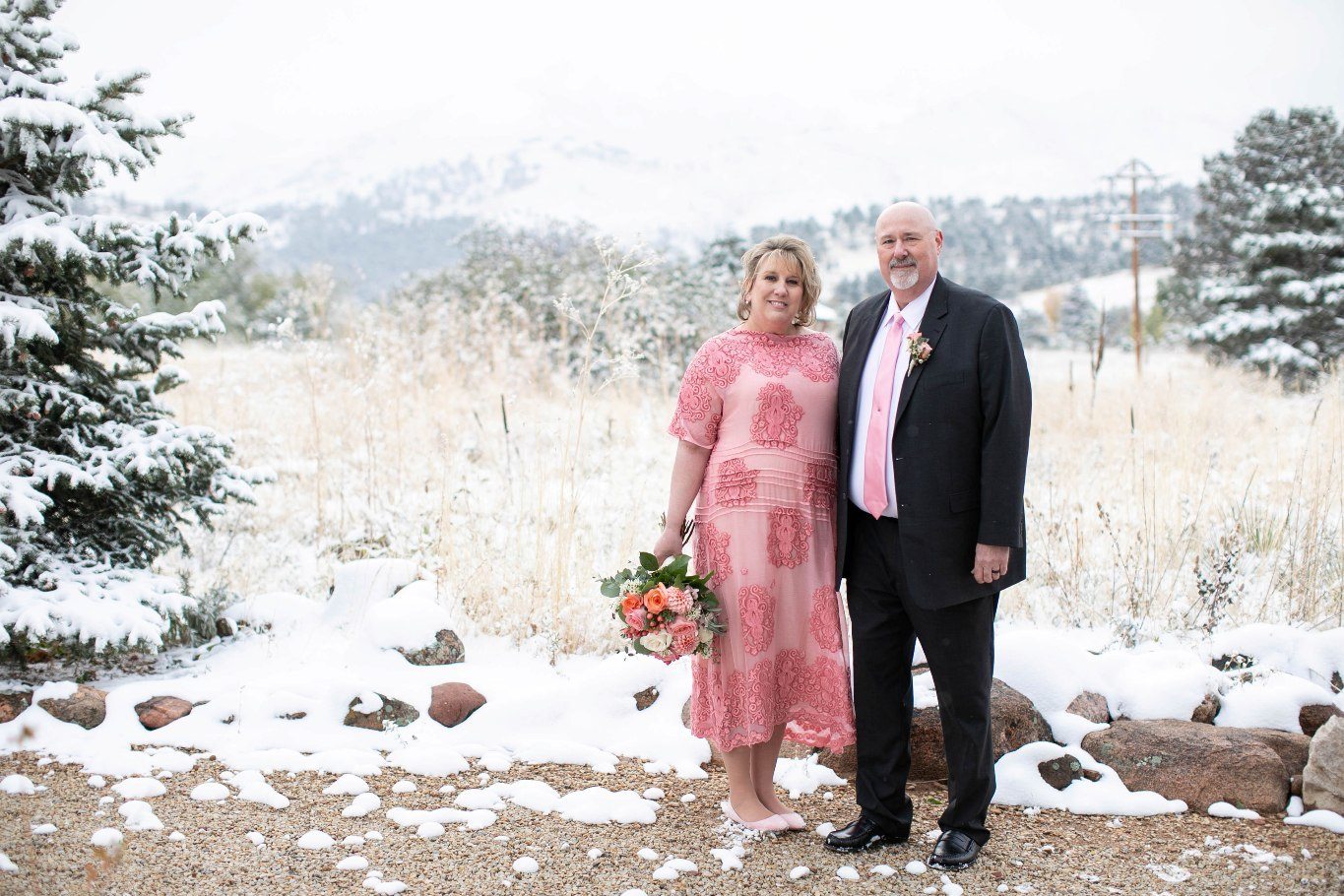 I am so glad I used Blue Sky Elopements for my wedding. Each and every vendor delivered far more than I anticipated. Kristin, my wedding coordinator, kept in close contact with me throughout the planning process and was a true gem. I could NOT be happier with how things turned out! Each vendor provided services above and beyond my expectations and what was promised to us.
Services included in Julie & Glen's Boulder Elopement Package
Location Consulting
Officiating
Photography
Bridal Hair & Makeup
Flowers (bouquet & boutonniere)