A Vail Winter Wedding for Chas and Alisha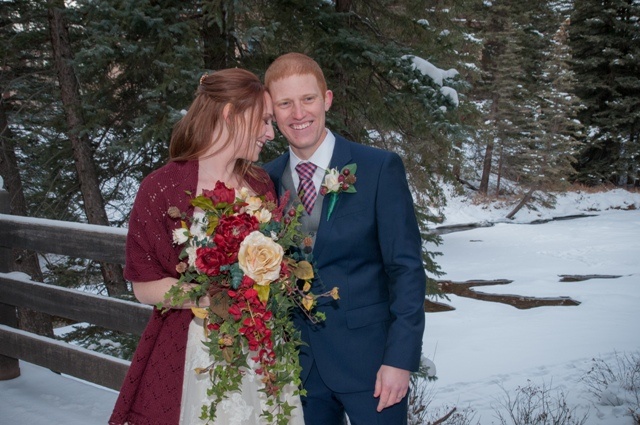 Chas and Alisha are another one of my Texas couples. (We get a lot of Texas couples coming to Colorado to elope!) Unlike many of the couples we marry, however, Chas and Alisha were already familiar with Vail.  They come here every summer!
Summer and winter have very different feels in Colorado, so for their Vail winter wedding they sought us out to provide some advice and direction.
They choose the covered bridge by Ford Park on the east end of town in Vail as their ceremony venue. Although this is a public walkway, it's not as well traveled as venues closer to Vail Village. Besides, most people walking by and seeing a wedding going on stop to watch anyway! It just adds to the fun!
Before their ceremony, they had our photographer meet them at The Sebastian Hotel where they were staying for some first look photos and a unique passing of pre-written love notes that I'd not seen before.
After the pre-ceremony photos, it was off to the covered bridge for the ceremony.
Why did you choose to have an intimate wedding?
"We did not want a big and stressful event that would cause us not to be able to enjoy our special day. We wanted it to be a moment that was only shared with those closest to us."
How would you describe your wedding day?
"Perfect!"
What was the best thing about having an intimate wedding?
"Reduced stress and fewer guests to worry about."
What was your favorite part of your wedding day?
"The simplicity."
Any advice for other couples thinking about eloping??
"DO IT!!!"