Jenni and Ben's Telluride Winter Elopement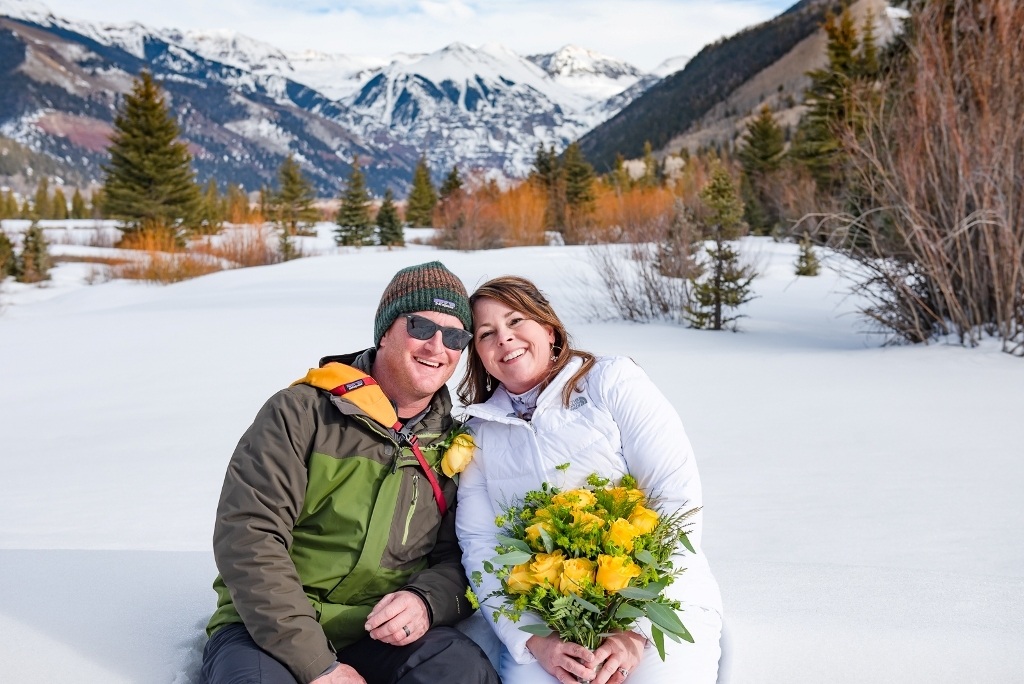 Jenni and Ben met in high school. But their lives after school were destined to take different paths…at least for a bit. Fast forward 20 years and Jenni, a divorced mom of two girls and Ben–a divorced dad with a son–reconnected. (Gotta love Facebook!)
And the rest, as they say…
Having both done the big wed-a-palooza with the first go-round, Jenni and Ben wanted something different. The focus this time was to be casual, family-friendly and COLD. Jenni had never seen snow, and as she puts it "everyone in Georgia (where she's from) gets married on the beach."
Yeah–these two are anything BUT cookie-cutter.
The kids were honored to be very special witness marriage-license signers!
Mom…here's your flowers…Mom! MOM!!! Stop kissing already!!!
The ceremony was followed by gazillions of family photos, fun, laughter, a snowball fight and the building of a snow man.
Our stylists styled Jenni's hair and makeup to reflect the casual feeling of her Telluride elopement. Somehow, an up-do would just have been out of place!
Jenni carried a bouquet of yellow roses to reflect the first flowers Ben had ever given her (waaaaaay back in high school!).
Try doing THIS at a traditional church wedding! (Not so much…)
Then, you know…. some wise guy (or gal–hard to tell who started this one) just has to throw snow.
What made you select the location you did? We both love cold weather!! And I have never seen snow!
What words best describe your wedding day?  The best day of my life other than the day that my children were born. It was perfect in EVERY way!
What was your favorite part of your wedding day? My groom  And my favorite flowers are white roses, but I carried yellow roses because my husband sent me yellow roses for Valentine's Day when we were in high school.
Did you face any challenges in eloping? Not one! All we had to do was book Blue Sky…they took care of everything we wanted. It's hard to plan a wedding in Colorado when you live in Georgia…but they did it all and exactly how we wanted!
What was the best thing about having an intimate wedding?  Having the people that mean the most to you standing right there with you…and dressed comfortably! There was absolutely NO stress.
Any advice for other couples planning to elope? DO IT!!!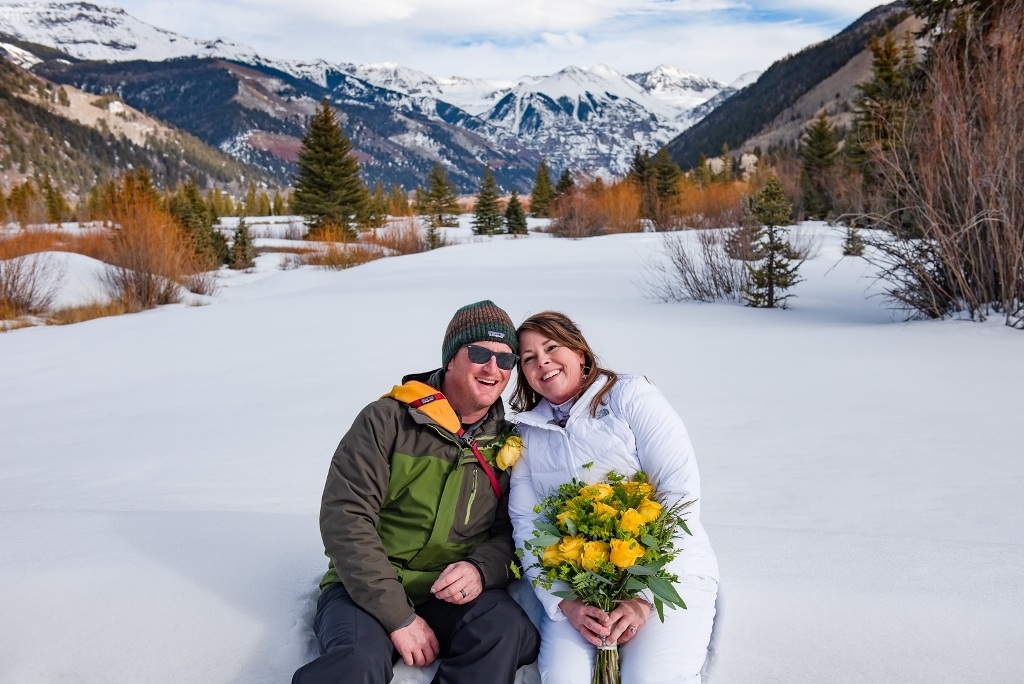 I cannot even begin to describe how happy that day was….I finally married the love of my life and my wedding was perfect.  I could not have been any happier. EVERY SINGLE PERSON was amazing.
Services included in Ben and Jenni's Telluride winter elopement: Location Consulting, Officiating, Photography, Bridal Hair and Makeup, Flowers, Coordination.