A Snowy Colorado Wedding for Kylie and Jack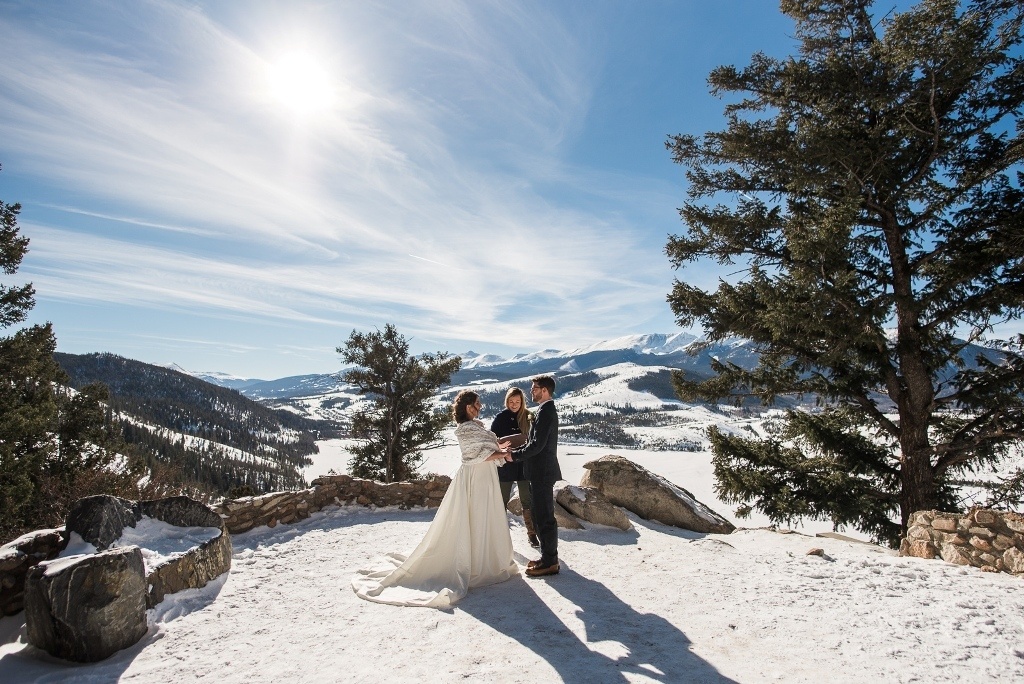 When you're on vacation in New Orleans and you bump into someone with whom you went to high school in Texas 18 years earlier, you know it's gotta be fate.
And so it was fate that led Kylie and Jack to their snowy Colorado wedding on a glorious sunny day in January.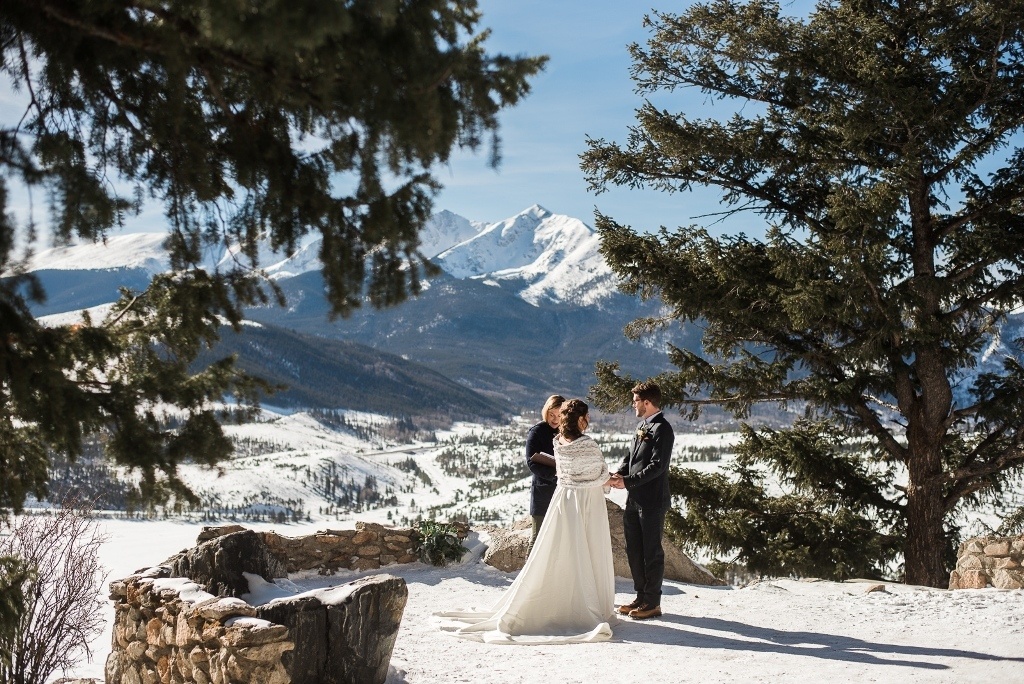 Having always dreamed of a mountain wedding and with a boatload of friends between them, they quickly became overwhelmed trying to figure how to include everyone in a large destination wedding while still keeping things somewhat affordable.
So they decided the best way to celebrate their love on their wedding day was to keep it just between them. To include their family and friends, they threw a bigger reception back in Texas.
The downsizing of the guest list allowed them to go all out for their tiny wedding and they included video in addition to our core package offerings.
The day was a textbook Colorado sunny winter day and these two took full advantage of the perfect weather conditions!
One minor oopsie…leaving the rings in the car…which Jack quickly rectified with a quick jog back to the parking lot.
Kylie's bouquet was a mixture of Ivory, pale blue, green, pale peach, and some burgundy capped off with fabulous winter greenery selected by our florist.
Our hair and makeup stylist did Kylie's hair in a loose half up/half down style that looked awesome with the neckline of her dress and her fabulous wrap.
And there they were….looking all happy and in love…strolling through the woods…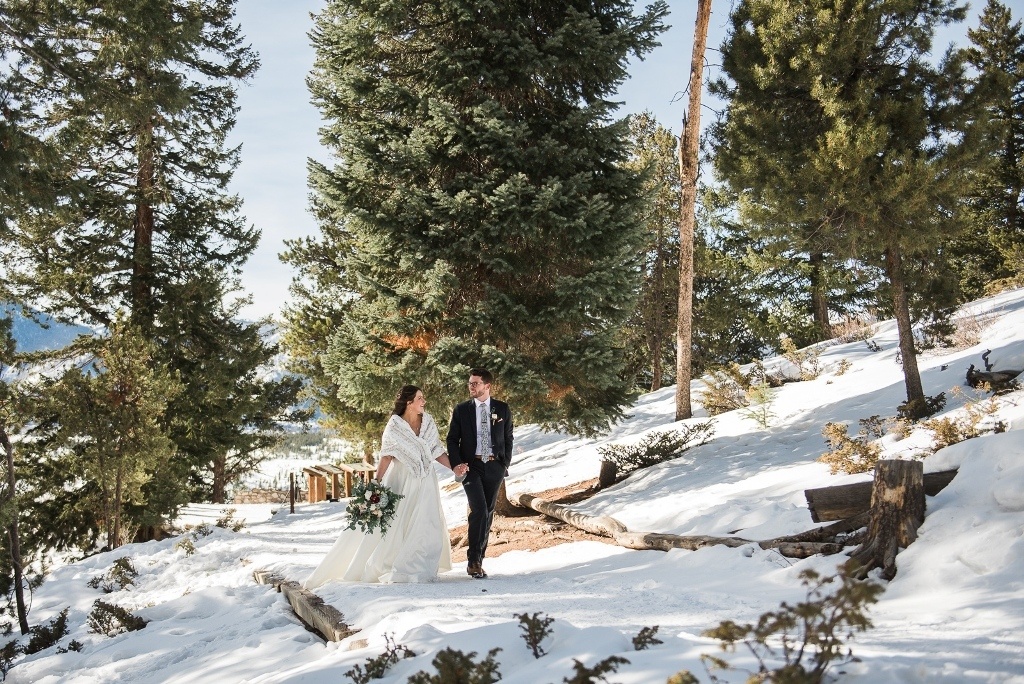 And you know…you just know…(cuz there's one in every relationship…)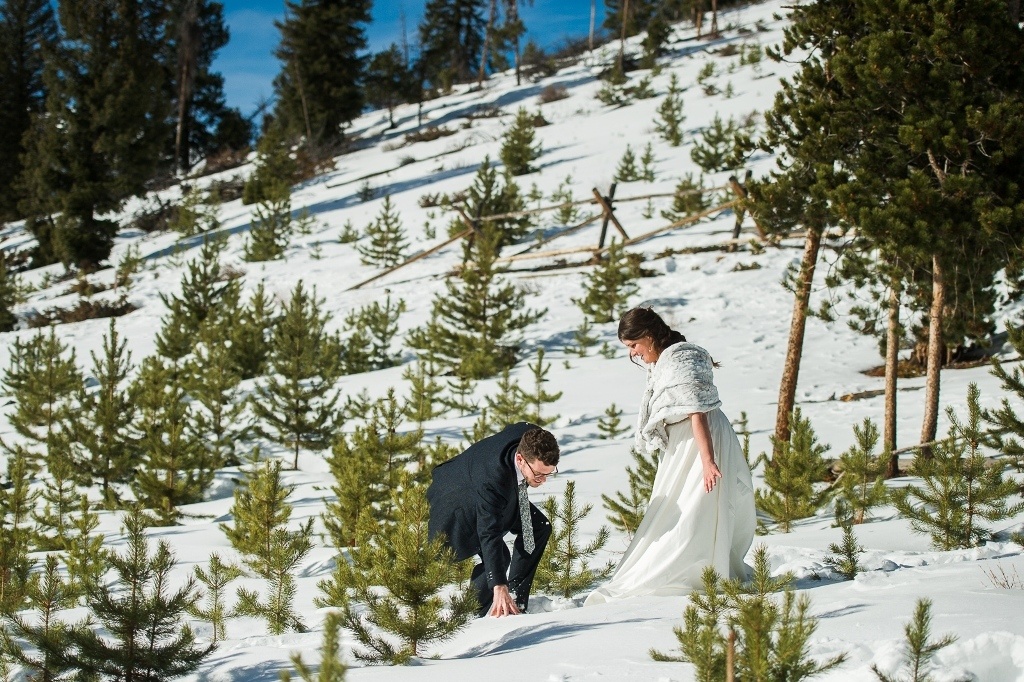 But you know one of them will nail the other with a snowball sooner or later.
Will it be Jack?…
Or Kylie?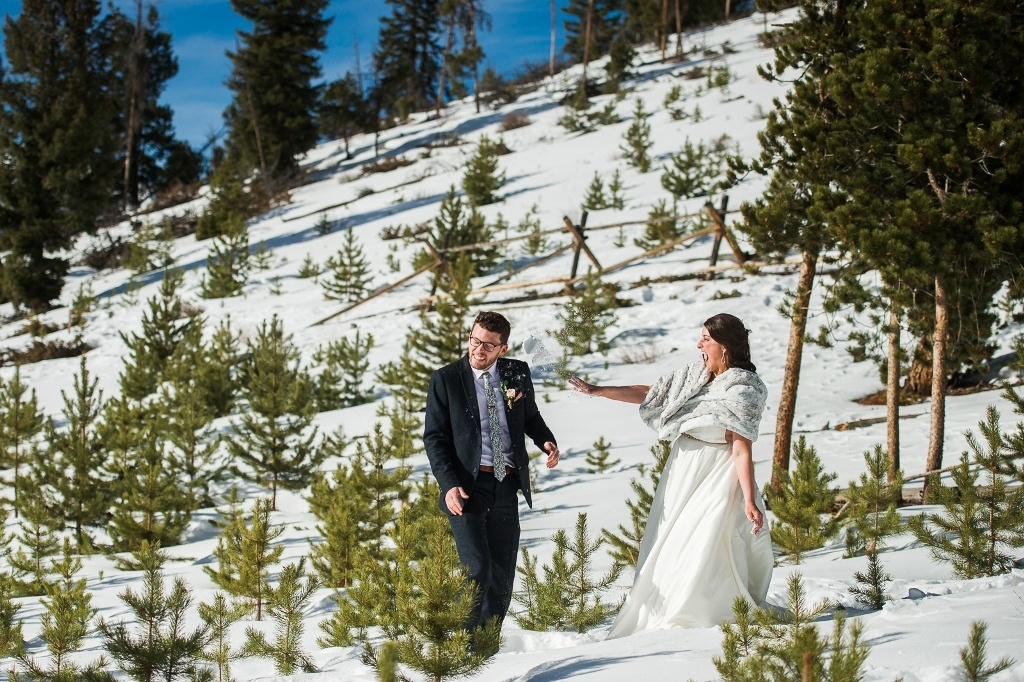 And, she nails him!
That'll teach him to forget those rings!
It's not a snowball, Jack…it's winter wedding pixie dust! And very good luck to he who wears it.
What made you select the location you did? Neither of us had been to Breckenridge and so we wanted to create a special memory there. We loved the photos of the Overlook, and Breckenridge is a town full of plenty to experience, while being a short drive from Denver International Airport, where we came in.
What words best describe your wedding day? Perfect! It was better than we could have ever imagined! Every vendor felt like they were friends we had known for years and made us feel so comfortable and special. We couldn't imagine how stressful a 'typical' wedding day would be with parents and friends and bridesmaids and so many potential mishaps, because everything we needed was carefully prepared and confirmed with us in advance. We had no worries and no nerves on our wedding day, just pure joy and a calm confidence in how we chose to be married.
What was your favorite part of your wedding day? Our absolute favorite part was the feeling we had after our ceremony concluded and we wrapped up with all our photos! Jack and I drove back to our condo and changed into our warm and cozy loungewear and made our own evening out of a puzzle and some warm cocktails and a movie. We didn't have anywhere to be or anyone to see and it was complete zen!
Did you face any challenges in eloping? We had a couple of friends and family members that did not understand why we wanted to have a private ceremony. We almost changed our minds over some of the feelings we thought we were hurting. We wanted a wedding that we'd remember and wouldn't get lost in the chaos of a bigger crowd. Ultimately, we stuck by our choice to elope and when we did, there wasn't a single objection. Everyone was thrilled for us! We are so glad we didn't look back!
What was the best thing about having an intimate wedding?  We remember every single moment. I imagine a larger crowd means lots of voices to be heard and more opportunities for unexpected turns, making memories foggy. We can genuinely say every moment was only about us, because it WAS just us! There wasn't a single distraction from our special moments together that day.
Any advice for other couples planning to elope? Don't hesitate to do what you want for your day, especially if you are concerned about disappointing friends or family. They will come around if they know this is what you really want. You will be amazed at how many people will tell you they wished they had thought about eloping and will tell you their wild stories they would have avoided if they did! Also, don't hesitate to spend a little more on the extras. I was so glad to have done all the full wedding package including hair, makeup, flowers, photos, etc. and I felt just as much a beautiful bride on that mountain with my husband, as I would have in a crowded church.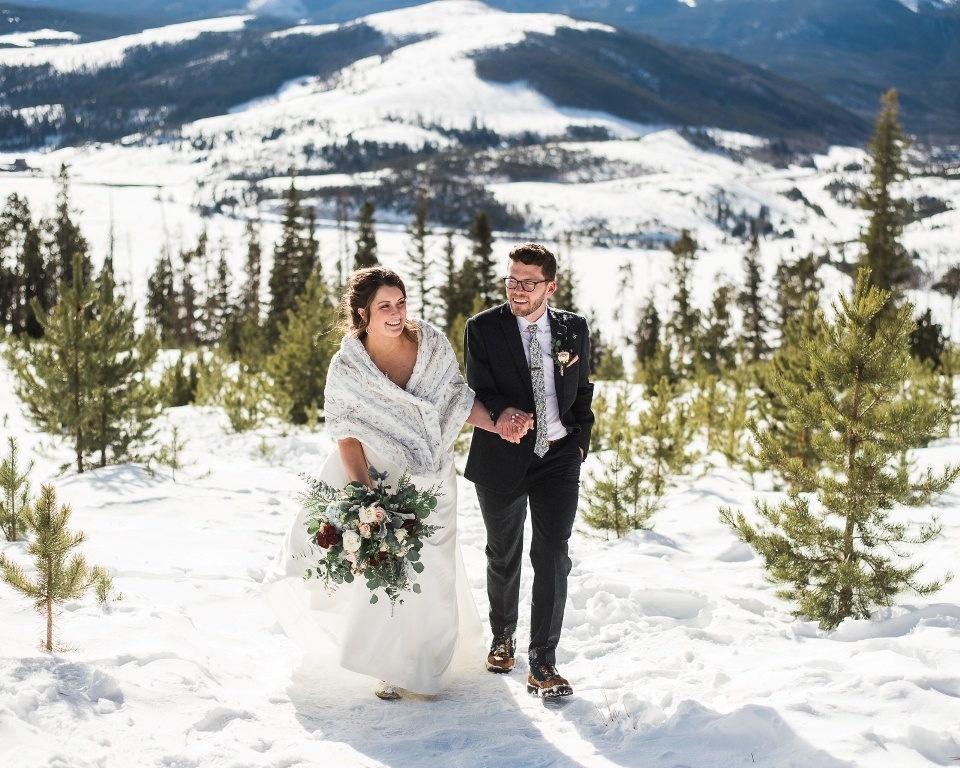 Regarding using Blue Sky Elopements, I could not have imagined how easy all of it would be. Every detail I requested was matched from the time of day the sun would be best for photos, to the color and type of flowers in my bouquet. I can't imagine how anything could have been improved! It was simply our most perfect memory. We feel blessed to have made the right choice with Blue Sky!
Services included in Kylie and Jack's snowy Colorado wedding package: Location Consulting, Officiating, Photography, Videography, Bridal Hair and Makeup, Flowers and Coordination.