The Realities of Getting Married at a Non-Reserved Site
You've made the decision to elope and all that's left is the logistics of where, when, how and what will it be like. Simple, right? How tough can it be to plan an intimate wedding for just the two of you (or maybe with just a handful of guests)?
The good news is–you're right! Planning a small wedding is infinitely simpler than orchestrating a gala for 200. But there are still some things to think about–things that may not have occurred to you since you probably don't plan a wedding every day. Luckily, we do (often more than one every day!).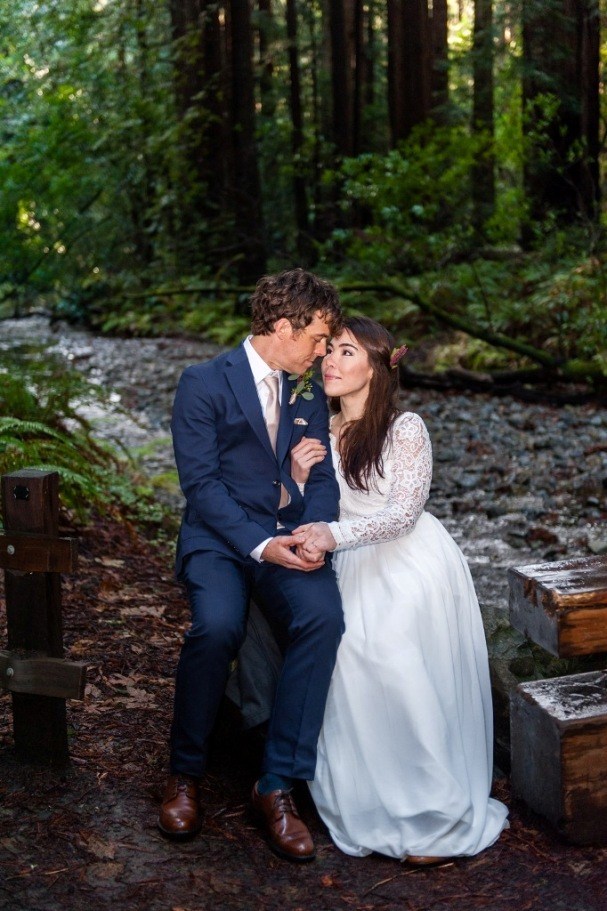 Should You Reserve your Outdoor Public Wedding Venue?
NOTE: for this article, we're talking about sites that either don't require a permit OR that offers permits, but doesn't mandate them. If a site REQUIRES a permit, do the right thing and don't try to circumvent their rules. You might end up with a nasty wedding-day experience of having a park ranger tell you to leave mid "I do's!" (Note: Blue Sky Elopements does not offer illegal, guerrilla-style, "pop-up" weddings at sites that require a permit. We play by the permit rules of the site. That way, we know we'll be invited back!)

Today, we're going to educate you on the pros and cons of having your elopement at a free public site. Be it a beach, the mountains, public gardens, parks, the woods or a rocky cliff, the areas we serve are home to spectacular outdoor venues where it's possible to just show up, say "I do," snap some fabulous photos and get on with your honeymoon

.
The Pros
The advantages of doing this are obvious. First of all, it's free! More money to spend on dinner, cocktails or buying trinkets for those back home! Second, the idea of showing up without bothering to pay for a permit, complete paperwork and reserve a site appeals to the spur-of-the-moment nature of many eloping couples. And don't forget the ability to turn on a dime if you want or need to change your plans at the last minute. If you pay to reserve a spot at that public park and it rains on your wedding day and you end up getting married indoors, you've paid for something you didn't use.
The Cons
As with most things, there are two sides to every coin. Bear in mind that a "public" venue means…well… there will be members of the public milling about. Some couples enjoy getting calls of hearty congratulations from passers-by. Others would like a bit more privacy as they exchange vows for life. (If you fall into the latter category, we suggest that you consider a private venue. Something most couples don't realize is that obtaining a permit for a public venue simply means there will be no other events scheduled in that location on your date and time. It doesn't mean you can restrict public access. A permit-paid site is not necessarily a private site.)
But even if the idea of onlookers doesn't bother you, there are still possible pitfalls to getting married at a non-reserved public site.
The major issue underscoring all of these potential downsides is this:
Without a permit, you are not the venue's "customer." They don't owe you anything, provide you with anything or communicate with you about anything relative to their site. They don't care that it's your wedding day. To them, you're just another citizen showing up to partake of their (usually taxpayer-funded) amenities.
And that's fine–much of the time. But then there are times where it can really torpedo your best laid plans.
Consider these scenarios (that really happened):
A public park closes for several weeks due to downed trees from a storm. Sure, they post it on their website, but who checks that???

Remember the Federal government closures? We do. It closed all national parks and federally-managed beaches for weeks.

You know those festivals people love to attend? Couples have shown up for their "intimate" wedding only to have the site crammed with thousands of people strolling the stalls of vendor booths at a craft show.

Unaware of the rules and regulations of a public site, you show up with your doggie ring bearer in tow only to find that your pooch isn't allowed at the site.

The Ladies Who Lunch Garden Club gals show up every Tuesday at noon to monopolize that lovely little rose-covered gazebo you've coveted for your special day. Okay, they don't have a permit either, but they've got squatter's rights!

What do you mean the road is closed to all but pedestrian and bike traffic on Sundays in the summer????

How come no one told me that this beach disappears at high tide?

The drumming circle meets where?? When???
And so it goes. Without plunking down cold, hard cash, you don't have much of an argument if the powers that be neglect to keep you in the loop about the comings and goings of their venue as your wedding day draws near. And when you think of the added stress of last minute running around, frantic calling of  all your ceremony vendors and (more than likely) late-start fees added by your vendors when your ceremony starts late in a different, hastily-obtained. second-choice venue, that couple of hundred bucks for the permit isn't looking so bad after all.
So, if you ask us, the peace of mind you'll get from reserving a site is well worth the money spent.
If you're truly adverse to spring for a permit, there are some things you can do to mitigate the need to impose a last-minute Plan B.
Choose a site that's large enough to accommodate you if there is another event going on there when you arrive. Sure, you might hear the street band playing in the background from the nearby unexpected farmer's market, but at least you won't be getting married in front of the organic chili pepper stand! Aim for the massive park, not the cute little neighborhood pocket park with the gazebo and little else.

Check the site's website all the way up until the morning of your wedding for any last-minute announcement of closures.

Call the managing office of the site before planning your wedding and ask if there is anything else going on on your preferred wedding date. Then call again on the morning of your wedding. Not everyone updates their website promptly–especially government entities.

Have a Plan B in place when you book your vendors, along with a deadline for a decision to use it and a communication plan to let everyone know.

Check tides, sunset tables and area calendar of events before planning your wedding at any site.

Be wise in your choice of date and time. A Saturday wedding in July is going to have a higher likelihood of there being something going on at your preferred public site. A Wednesday morning in October? Probably not a problem.
Be prepared to go with the flow if you don't reserve your site. If that's not in your game plan and you'd prefer more peace of mind, then let us secure a permitted or private site for you.