A Rocky Mountain Winter Wedding for Kendra and Daren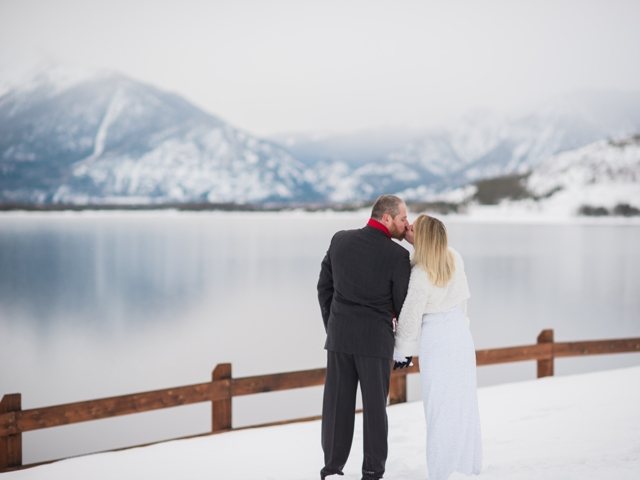 Everyone wore a touch of deep red for this Rocky Mountain winter wedding and the affect was smashing. Kendra contacted me in mid-November saying that she, Daren and her two kids would be in Breckenridge for a ski week at the end of December. Could we manage to put together an intimate wedding package in a month?
You betcha!
We planned their wedding on the date of the Winter Solstice on the shores of Lake Dillon. Hoping for snow, they were blessed by a light snowfall that started during their ceremony. It was perfect–just them, Kendra's two kids and lots and lots of snow!
Kendra's bouquet of white and red roses with berries echoed the colors of their scarves, jackets and Daren't tie.
I asked Kendra why they chose to have an intimate wedding.
"We wanted our wedding to be about us; something special and unique."
And why Lake Dillon?
"We love the Colorado mountains and being outdoors. Breckenridge and the surrounding area is one of our favorite locations."
What words best describe your wedding day?
"Absolutely perfect!"
What was your favorite part of your wedding day?
"Our officiant was truly wonderful. As we were exchanging our vows, a light snow began to fall which felt like a blessing."
What was the best thing about having an intimate wedding?
"We could focus on just us and our children. The moment was shared with the most intimate members of our family."
What advice do you have for other couples thinking about eloping?
"Focus on only your wants and needs. In the end the moment is yours and yours only."
Words of Praise for Blue Sky Elopements
"We could not be happier! Thank you!"
Annnddd…(drum roll please), we saved the best for last–pictures of their post-ceremony snow-angel-making and snowball fight!
Try that at a summer wedding in a rose garden. I think not!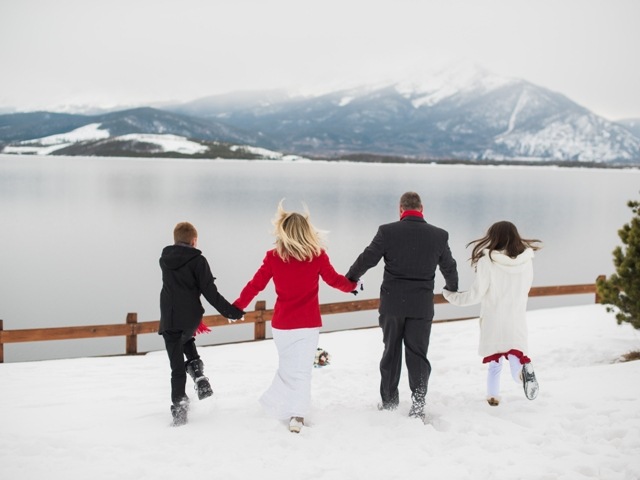 Love and blessings to Kendra and Daren and their gorgeous family!! Thanks for entrusting us with your special day.