A Mountain Elopement for Gary and Penny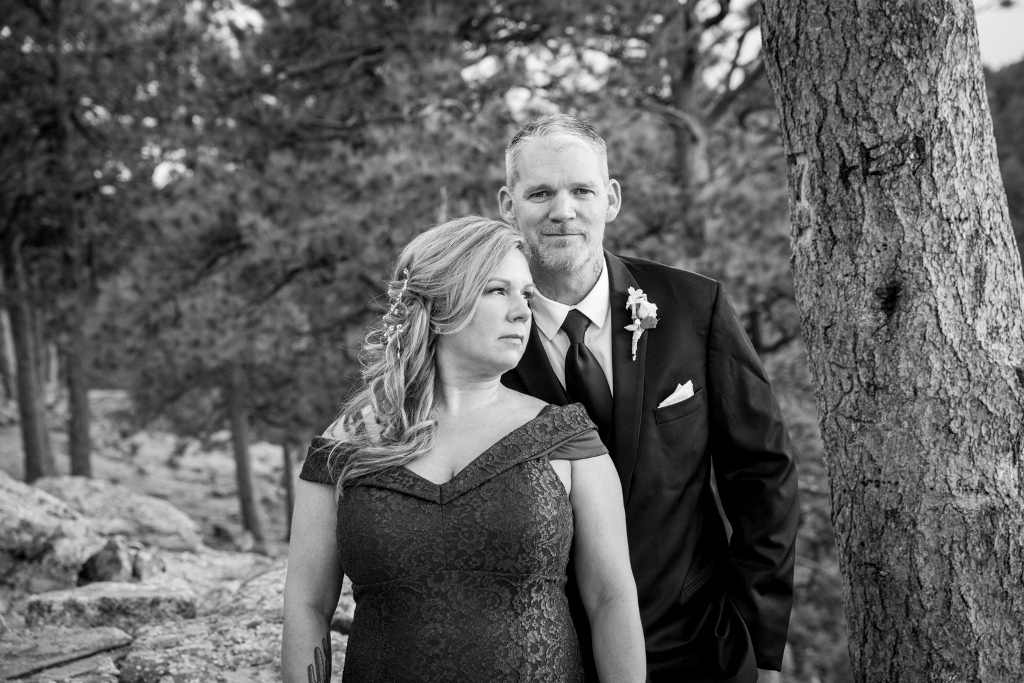 The task of planning their mountain elopement fell to Gary
I fell in love with Gary at hello (in a purely platonic sense, of course…on account of I'm already happily married and all…). Everything about this inquiry was different than usual. First of all, Gary was the primary planner. I could tell he was a little out of his element in planning a wedding, but he's so crazy about Penny, he was willing to take this on just to make her happy.
Second, Gary actually picked up the phone to inquire about our services. How refreshing was that!! We actually got to talk right from the beginning.
And lastly, the time frame to pull off this wedding was a little tighter than I would have liked. Normally I like a minimum of two months (six is better!) so my couples don't have to rush headlong into the planning process.
With Gary and Penny, we had about five weeks to pull it off. But, what the heck! Gary hit me as someone who wouldn't dilly dally in getting things done…and did I mention I LOVE him??? And then we all got on the phone–Gary, Penny and I. And Penny told me she wanted to look like a princess on her wedding day because this would be the most special day of her life. Then I fell in love with her too!
And I was bound and determined to make sure her princess vision came true. I even contacted my hair and makeup stylist before they officially booked!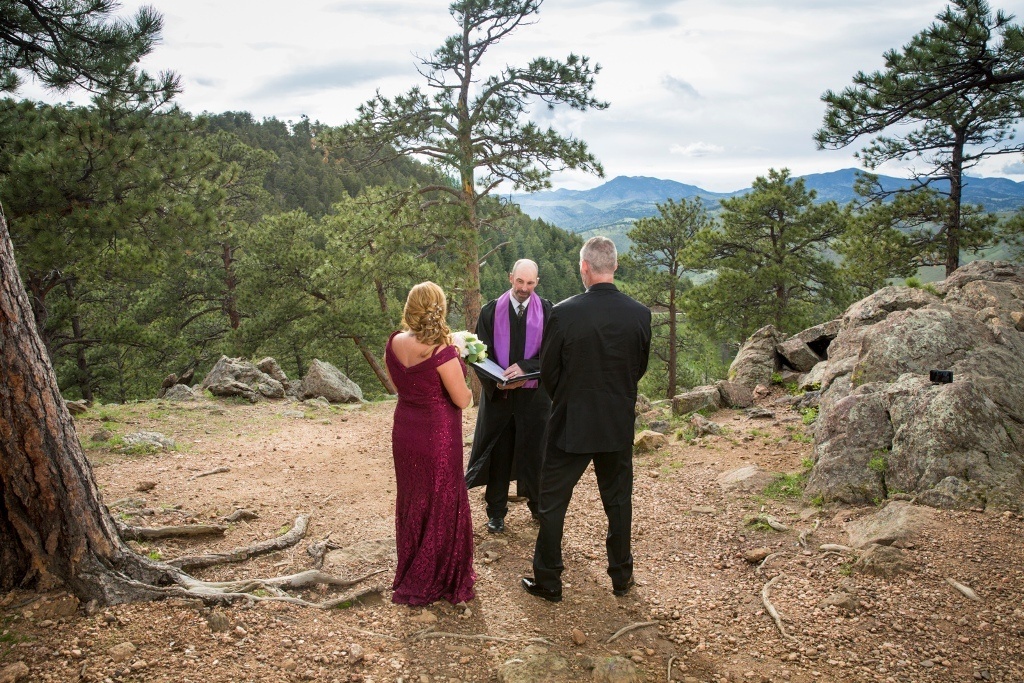 The day of their wedding dawned overcast and then morphed into rain. This was so not part of the plan. This couple was not getting married in a downpour if I had anything to say about it! There was a bit of back and forth texting as we all watched the skies and debated whether or not we should pull their wedding indoors at their suite at the Table Mountain Inn.  But at the last minute, Gary said they wanted to go for it ("it" being the outdoor site) so we went with it.
And of course the skies cleared a few minutes before their ceremony and then opened up again just as they finished their photo shoot.
Because clearly these two were destined to say "I do" on top of a mountain in Colorado and even the gods would not mess with that plan! Plus, we did not enhance Penny's gorgeousness so they could be married in their hotel suite–even though it was a very nice one! These two were born to commit to one another beneath a wide-open Colorado sky.
Gary was beaming at his beautiful bride for most of the day.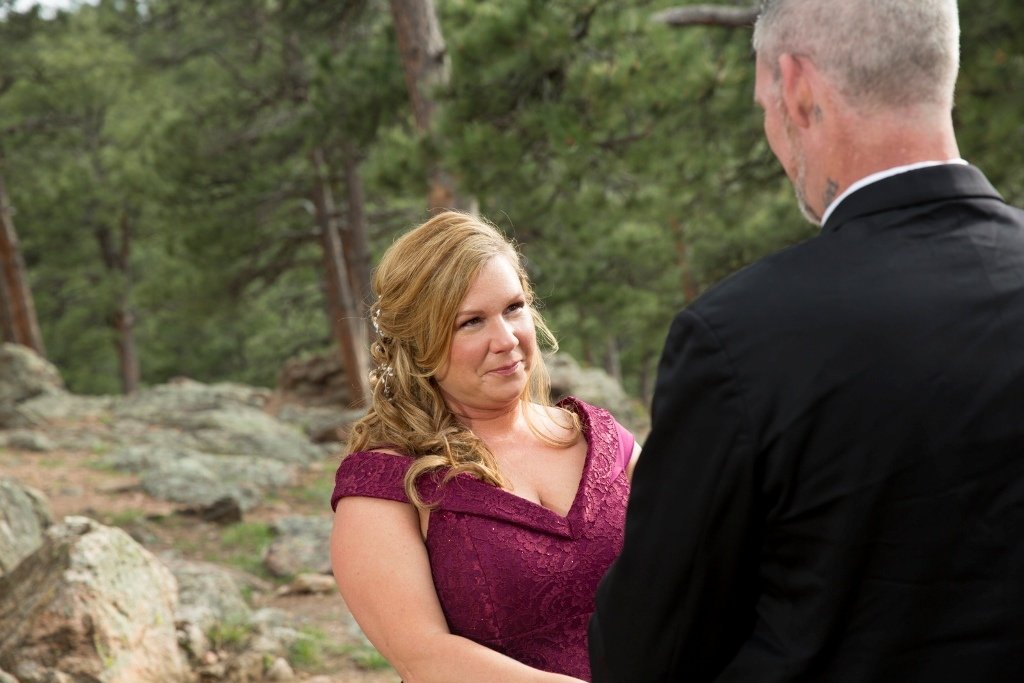 And Penny did indeed look like a princess!
Penny's Dazzling Dress
I just have to pause here to comment on Penny's deep red wedding gown. Such a stunner and a fabulous nontraditional twist on the typical white/ivory that we usually see. Her pastel peony and rose bouquet was in sharp contrast to the richness of her dress and they complemented each other perfectly.
Add in the dramatic green mountain backdrop of their May wedding and their photos look like something out of a fairy tale.
One More Piece of Wedding Good Fortune
The other bit of auspiciousness that we didn't realize had crept in until later was that about a month after Gary and Penny's elopement on the mountain, the city of Denver put up fencing that effectively prohibits us from getting photos with these to-die for backdrops. So this wedding is one of the last ones ever held here. (With the newly-restricted accessibility, the site has lost a lot of its appeal.)
Everything about this day was meant to be.
In Their Own Words
Why did you choose an intimate wedding?  We wanted it special, not a quick courthouse marriage. We wanted one to remember.
What made you select the location you did? We both love the west, and how can you not love the mountains?
What words best describe your wedding day? It was so perfect, thanks to Blue Sky. We simply can't put it into words.
What was your favorite part of your wedding day? Waking up, knowing we were going to become one that day.
Did you face any challenges in eloping? The only challenge was the weather but the rain held off–allowing us a window to do our wedding. Then the rain resumed.
What was the best thing about having an intimate wedding? MEMORIES….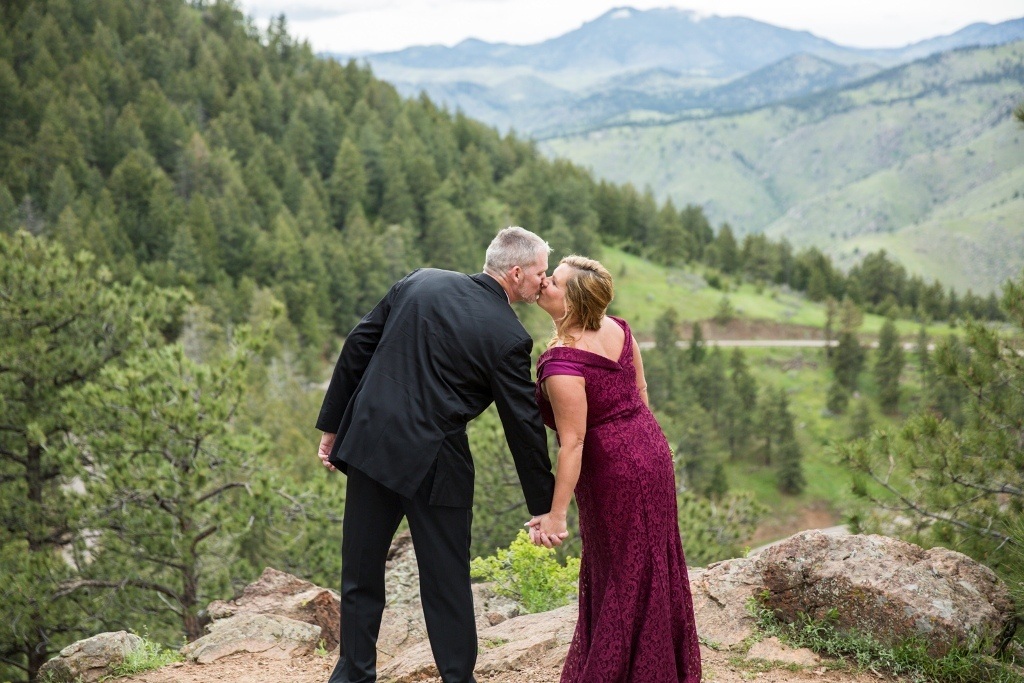 Blue Sky is everything they say they are. They kept in contact with us and if I needed to contact them with any questions they were quick to respond. It was well worth the money which saved us our sanity. I could say you're a 2 thumbs up but I have to say you're a 4 thumbs company (my wife and i).
Blue Sky made it so much easier for us to share our special day and we recommend it to anyone. The hair and makeup vendor did an amazing job, the minister was amazing and made us feel comfortable. Dave the photographer was hard to keep eyes on because he was in so many places doing different angles for pics.
On a scale of 1 to 10, I give you a 12. Why stop at 5 stars when you can be a 6…..?
Location Consulting
Officiating
Photography
Bouquet/Boutonniere
Bridal Hair & Makeup
Coordination
Good Weather Anti-Rain dance thrown in at no additional charge!