How to keep your guests entertained during your wedding photo shoot
Your ceremony is over. Now what?
Regardless of the size of your wedding (unless you have no guests at all), there will come a period of time after your ceremony where your photographer will need only the two of you for photos. That's the time when you get those dreamy, intimate "just us" photos that truly tell the story of your day and your commitment. This is not something you want to rush through or scrimp on–nor do you want to spend one minute of that time fretting over your guests and if they are feeling comfortable while you two are otherwise engaged.
But what are your guests supposed to do while you and your Sweetie are off galavanting about the countryside taking pictures? Even if your wedding is diminutive, you need to play host to your guests and make sure they are comfortable for the entirety of your wedding day.
A typical elopement wedding day timeline with guests
The typical elopement wedding day photographic timeline might look something like this:
Everyone gathers for the ceremony. That usually takes about 15 minutes.
Ceremony over. You're married! Time for hugs and congratulations all the way around.
Now your photographer will want to do your family and group photos. An experienced and thorough photographer will want to take you around your ceremony venue (and perhaps even to other sites, if you've agreed upon this in advance) to get pictures of the two of you in a variety of backdrops and lighting situations.
Couple photos over. You will most likely want to rejoin your guests for the celebration.
This means your guests might be on their own for anywhere from an hour to several hours. You will want to do some advance planning to ensure they are taken care of during this time period. Also, you don't want your guests trailing around after the two of you as you get your photos taken. They will only get in the way of the photographer, distract you, and probably make you feel self-conscious.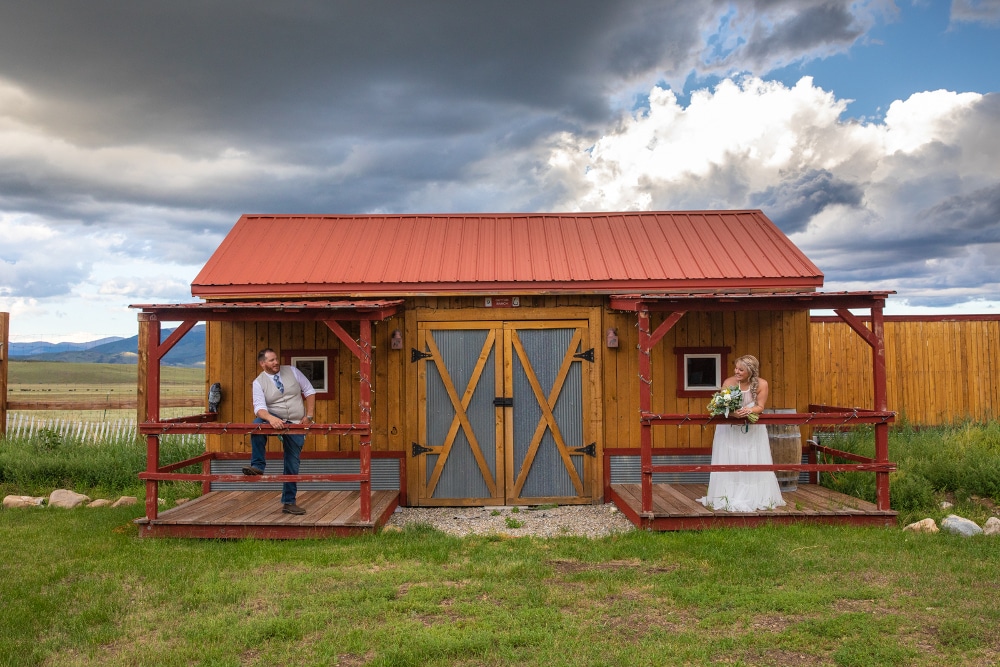 Ideas for things to do
Let guests be on their own (with minimal direction)
If you're on a budget, it's not a must that you come up with expensive activities for your guests. What matters most is having a plan. The simplest and least expensive option is to simply invite your guests to be "on their own" until you reconvene at a certain time and a definite place. The best way to announce this (aside from telling them all ahead of time–which is a good idea) is to have your photographer make a tactful announcement at the end of your group photos. They can say something like, "John and Mary will be taking photos until ______. Feel free to relax and enjoy the area, or go back to your lodging to rest up for the evening's festivities. Please plan to meet at the Gourmet Restaurant at 123 Main Street at 5:00 PM for cocktails."
It's also a good idea to have one member of the group to subtly enforce this suggestion. (Moms are particularly good at this!) You know your people best, so if you think there will be someone (or several someones) that will ignore this invitation and persist in hanging around your ceremony and photo site, having a trusted person there to direct activities will be a godsend. Another way to ensure that everyone goes away is to arrange for one form of transportation to and from your ceremony for guests. If you hire a shuttle van and that's the only way they can get back to their lodging, no one's going to miss the bus!
If you go this route, it would be courteous to offer guests a list of suggested activities for them to participate in. You can add this to your wedding website, include it with your invitations, or have paper flyers to distribute after the ceremony. Include things such as shopping, any in-town festivals, local attractions and things to do with kids. Make sure you don't send them anywhere that will take up more time than the day allows. You don't want them late for dinner!
Provide food
The obvious thing here is to send your guests for appetizers and cocktails while you take photos. Bonus points if cocktail hour is at the same location as your post-ceremony dinner. This cuts down on driving from one place to another (as well as the issue of drinking and driving from one place to another!) and simplifies things for your guests. You should foot the bill for this one, but you can limit the financial hit by allowing only an hour, providing only two or three appetizer options and offering only beer and wine.
Arrange for an organized activity
For the truly creative, don't hesitate to set up a structured activity for your guests to have fun with. We've organized scavenger hunts, winery and distillery tours, walking tours and adventure activities for our couples' guests. If you're going to go this route, it's best to do so through an experienced tour guide or travel agent (such as Blue Sky Elopements travel concierge services) so you'll be comfortable knowing that the details have all been handled for you.
Another option is to provide a photo booth for your guests. Everyone loves hamming it up. Mad Libs and trivia games are also fun, as are lawn games of any type (assuming the weather cooperates). You can hire all sorts of entertainers to keep your guests happy–from caricaturists to magicians. And if your guest list includes lots of kids, don't forget to keep them entertained as well (their parents will thank you!).
Be sure to make a special effort to consider the isolated single or couple that doesn't know anyone else at your wedding. That's not as common with intimate elopements, but it can happen. Make an effort to offer something that will allow them to easily mingle with your other guests, This is another occasion where asking a more outgoing friend to connect with them while you're otherwise engaged would be a kind thing to do.