Intimate Colorado Springs Wedding for Jessica and Michael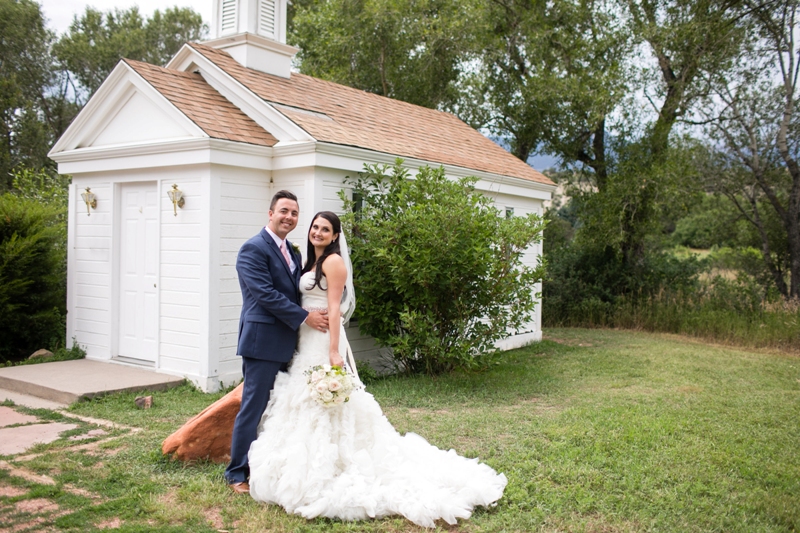 Like many of the couples with whom we work, Michael and Jessica started planning a big wedding in their home state of Florida.  However, when costs began to spiral out of control and the stress began to mount, they quickly reversed gears and began to think about something smaller.
An intimate wedding in Colorado Springs was the answer. She picked the state; he picked the city. And I got a phone call.
We discussed many venue options, Jessica loved the idea of the glorious red rocks of Garden of the Gods as a backdrop for their wedding photos, but she also wanted a more traditional wedding ceremony–with seated guests, her sisters as bridesmaids and her dad walking her down the aisle.
So to satisfy both of these desires, we set her up with a ceremony at a little white chapel in the Springs, followed by photos of just the two of them at Garden of the Gods.
Jessica's flowers were a blend of pale pink and ivory roses and peonies.
And the shoes! In fuchsia! Love, love, love!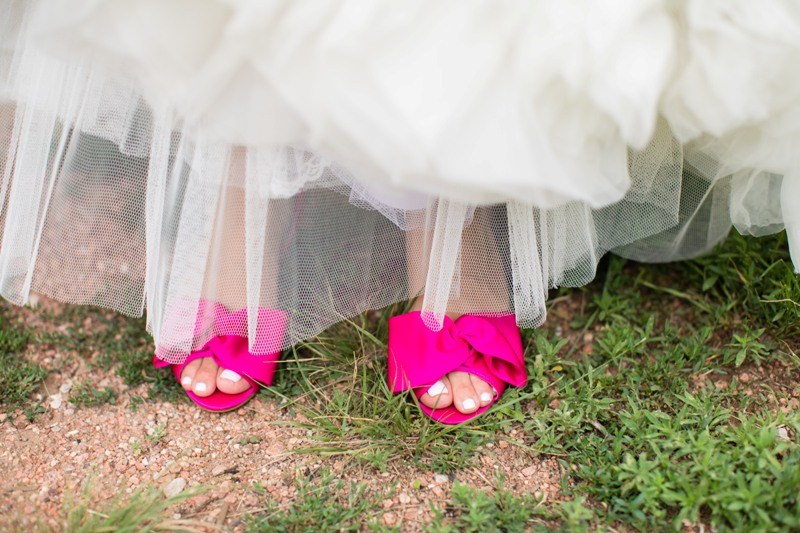 And then it was off to Garden of the Gods for some couple photos.
I'm madly in love with their choice of wedding-day footwear!
Every guy–and I do mean EVERY guy–that visits this unique rock formation at Garden of the Gods feels compelled to pose for the "macho-rock-lift" shot.
I asked Jessica what made them choose to have an intimate wedding
"We decided on an intimate wedding after trying to plan a big Miami Beach wedding. The costs were getting out of control and the planning was so stressful. We realized we didn't like all the dances and speeches, etc of a traditional wedding. We felt it was best for us to have a simple wedding surrounded by our immediate family.
What words best describe your wedding day?
"Perfection, fun, and full of love!"
What was your favorite part of the wedding day?
"It's hard to pick just one part! The entire day was amazing. I loved the moment I walked into the chapel and Mike and I first saw each other for the first time. Loved that my sisters and niece were there as my bridesmaids and flower girl. Mike's mom, my parents, and grandma were also present making our wedding day even more special. We also had such a great time with our wonderful photographer."
What was the best part about having an intimate wedding?
"The best part to us was having more time to focus on each other and our love. We were able to spend more time with our family and enjoy the beauty of Colorado Springs. Having Maureen coordinate all the vendors and manage the whole process had us worry-free and relaxed."
Any advice for other couples thinking about eloping?
"Do it!! It's more affordable and stress free! You really get to enjoy the day with your spouse and your closest friends family members."
From Jessica about our services:"We were extremely happy with Blue Sky Elopements! Maureen and her team of vendors made the process so simple. All the vendors provided were amazing! Everyone communicated effectively and kept us informed with all changes and expectations.We are so happy with how everything turned out and enjoying married life together."