Jennifer and Abhishek's Intimate Boulder Wedding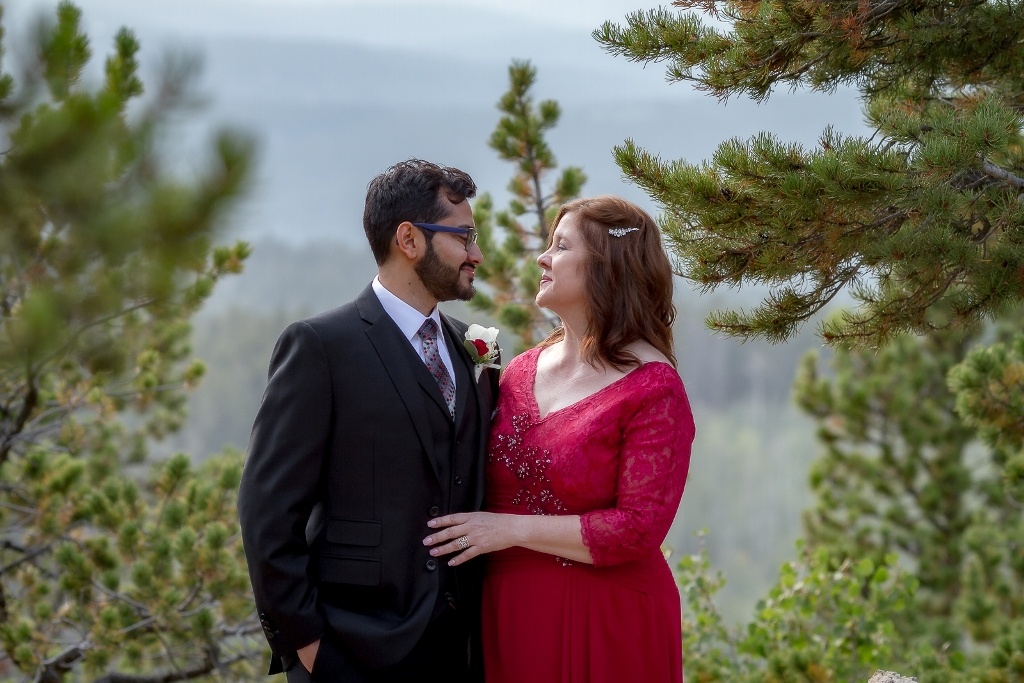 When Jennifer and Abhishek and I had our first consultation, they let me know they wanted a venue close to the city of Denver, where they live, but still with drop-dead-mountain views.
Yeah…we've got that!
I gave them a few suggestions, complete with photos and videos. But there's nothing like experiencing the real thing so they took my info and went on an exploring expedition of their own.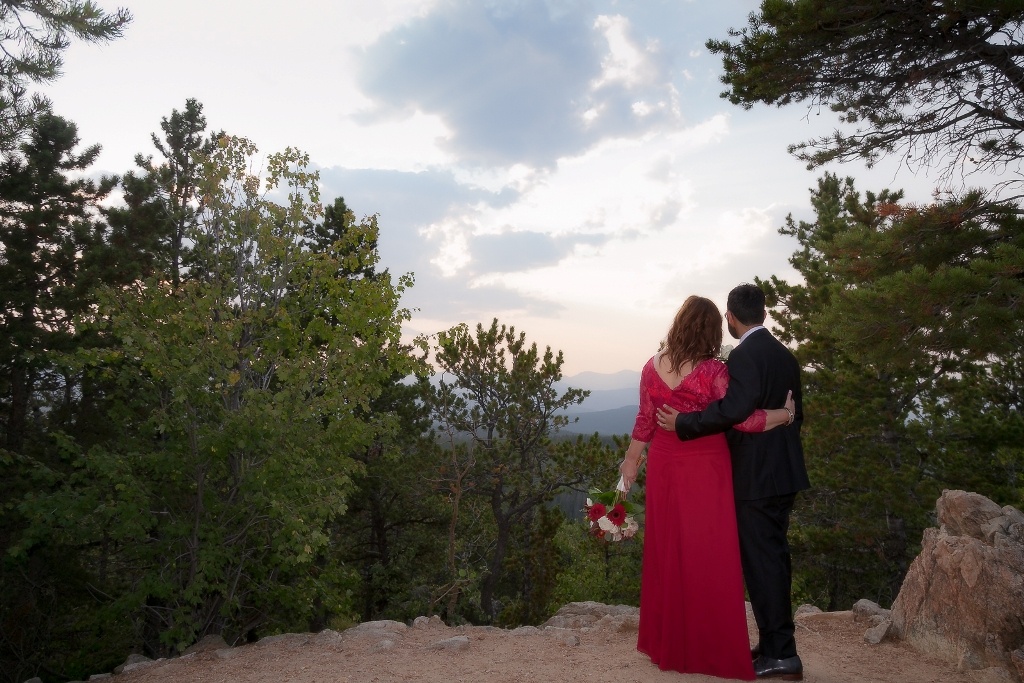 They ended up swooning over my favorite close-to-town-overlook. This little gem gives fabulous views of the Continental Divide and it's close to both Denver and Boulder. With their grown children, Jennifer's mom and a couple of dear friends to witness their vows, their intimate Boulder wedding was the stuff that dreams are made of.
Oh yeah…did I mention there were cupcakes and Champagne too?
Jennifer chose an absolutely stunning V-neck long red dress that simply pops in their wedding photos and was complimented by a bouquet of flowers designed by our wedding florist in white and dark reds.
I caught up with Jennifer a month or so after the wedding to get her thoughts.
So what made you two wild and crazy lovebirds choose an intimate wedding?  "We have always been private with our relationship and wanted to keep our ceremony simple and easy with just us."
What words best describe your wedding day?  "Perfect! Everything was simple and easy and allowed us to enjoy each other and family. The setting was gorgeous and the day was exactly what we wanted."
What was your favorite part of your wedding day?  "I loved the wording of the ceremony, as it fit us perfectly and was wonderful being outdoors."
What was the best thing about having an intimate wedding?  "Having all the planning handled for us was a joy. Even for the small group it was so nice not to have to get all the vendors or find a location, this was so easy and quick!"
Any advice for other couples planning to elope?  "I believe if you truly want something intimate and just for you consider an elopement. Our friends understood and it made the day about us and not all the details that could go wrong. We couldn't have asked for a better wedding!"
​"Maureen and team were wonderful with communication and every detail handled professionally and promptly. We put our elopement together in just a few weeks so really appreciated how easily this all came together. Was a great day and enjoyed having the process be so easy. Flowers were beautiful and stayed for a week. Loved photographer and officiant. Thanks so much for helping us have a very special day. Highly recommend Blue Sky Elopements!!"