A Destination Wedding in Boulder for Alysse and Larry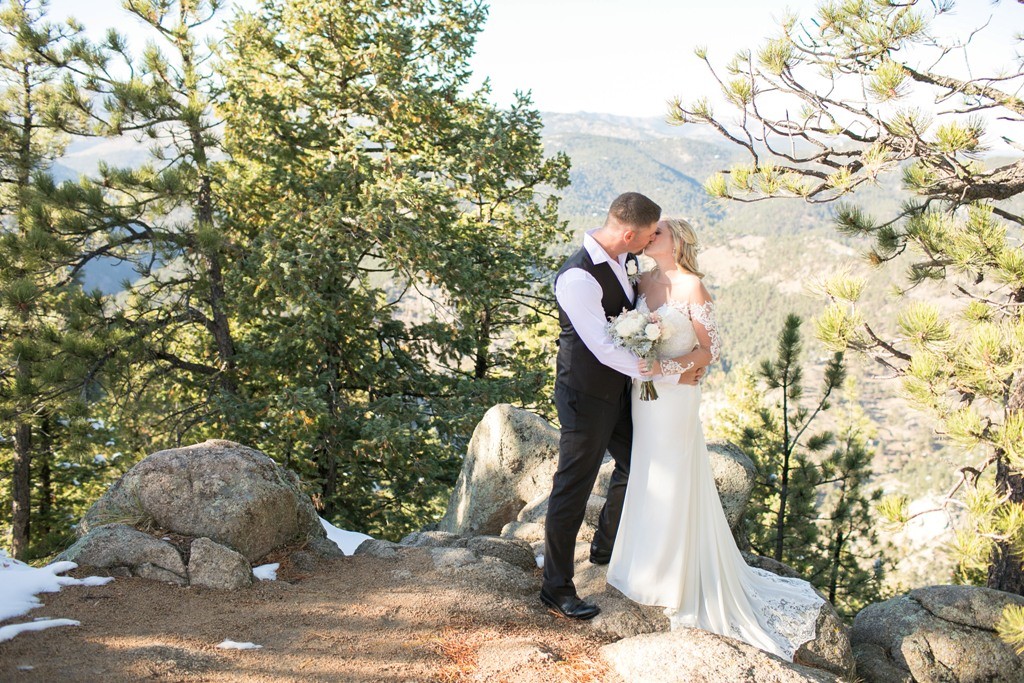 Often, when couples think of coming to Colorado to get married, the mountain towns come to mind (e.g. Breckenridge, Vail, Aspen, Winter Park). While these towns are gorgeous–and we serve them all–some folks don't realize that they can also have fabulous mountain backdrops by getting married closer to town.
Such was the case for Alysse and Larry who came in from Oklahoma for their Boulder destination wedding. And from the spectacular mountain views in these photos, you'd never know that downtown Boulder was only a few miles away.
There was one slight glitch however. An unexpected snow dump caused a last minute rescheduling of their wedding day from October 9th to October 10th. Yes, I know….usually we pick a date and stick to it no matter what, but Alysse really wanted to be married outdoors and I'm really a sucker for giving brides what they want, if I can. So I got on the phone and tracked down all of their wedding professionals the day before the original scheduled date. They all graciously juggled their other commitments and we were able to push everything off a day.
Have I mentioned how fabulous my wedding teams are?
Subsequently their destination wedding had a much more wintry feel that we'd originally anticipated. But my, oh my, was it ever stunning!
Let's take a look: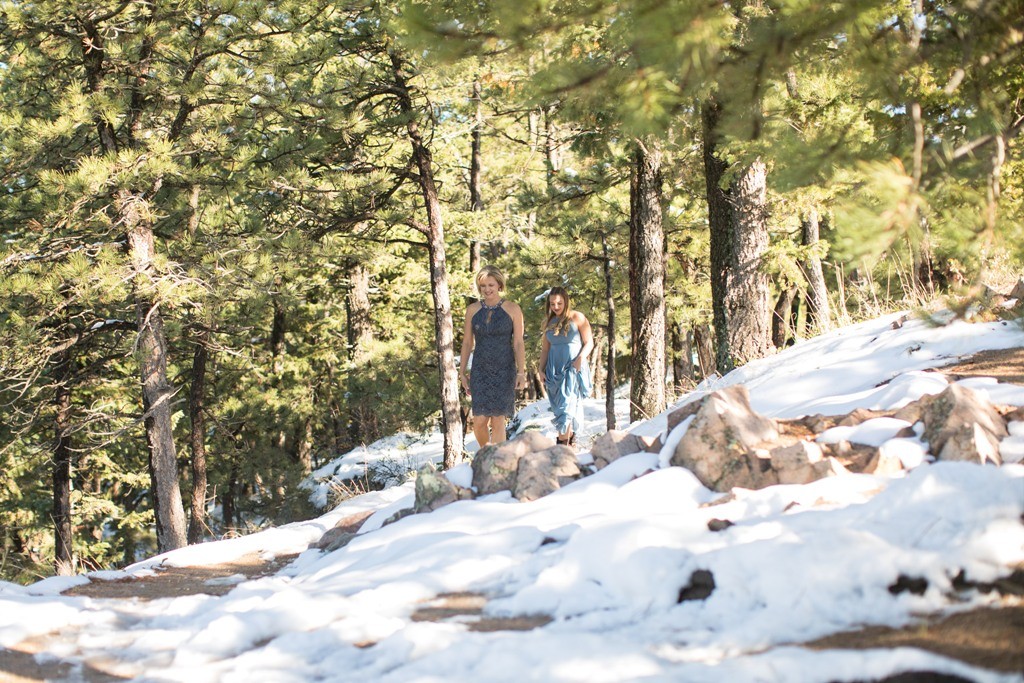 The walk to the site is about five minutes from the parking lot, down a path that is normally well-maintained. But we hadn't planned for the snow so early in the season. So the guests had to carefully trek in wearing their wedding finery.
Small price to pay for such a fabulous view! And the good news was that–in typical Colorado fashion–the post-snowstorm sun came our in full force and shone down brilliantly on the wedding day.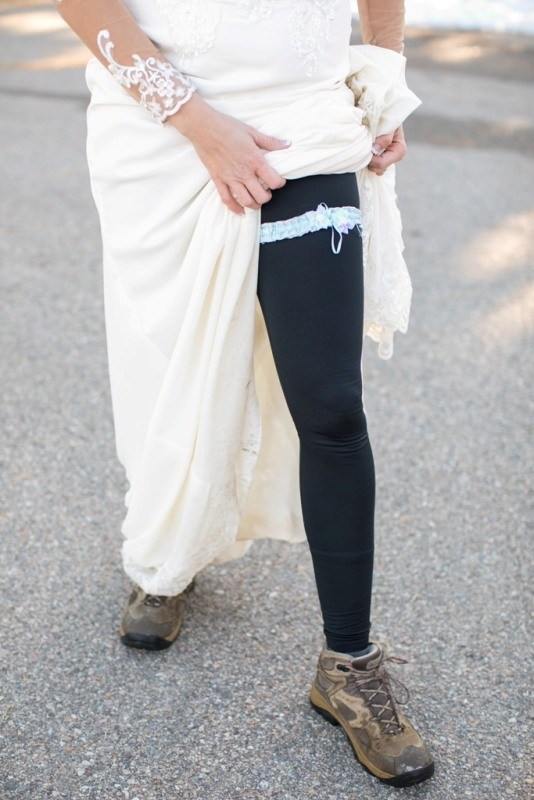 And our bride Alysse came prepared for the hike!
Alysse gamely clambered over the rocks for optimal wedding photos!
It was a bouquet of white roses for Alysse–specially designed by our favorite Boulder-area florist. So pretty against her lace sleeves and the white snow.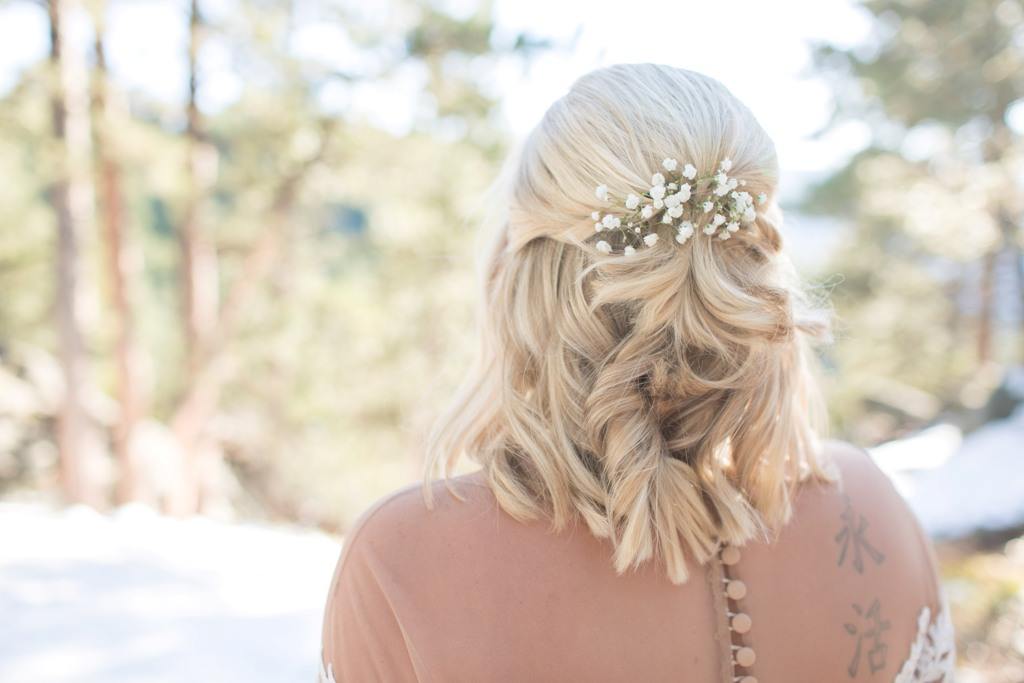 Alysse's hair and makeup was flawlessly done by our preferred stylist in the area, who worked a bit of baby's breath into her blonde hair.
So what made these two choose an intimate wedding? 
"To get away from all the questions that come when announcing and engagement. To make the day about us and not about entertaining other people."
What words best describe your wedding day? 
"Easy and stress free!"
What was the best part about having an intimate wedding? 
"Only our closest family were there."
Any advice for other couples planning to elope? 
"DO IT!!! It's truly a day for you to remember instead of remembering how you didn't have time to eat for a day!!!"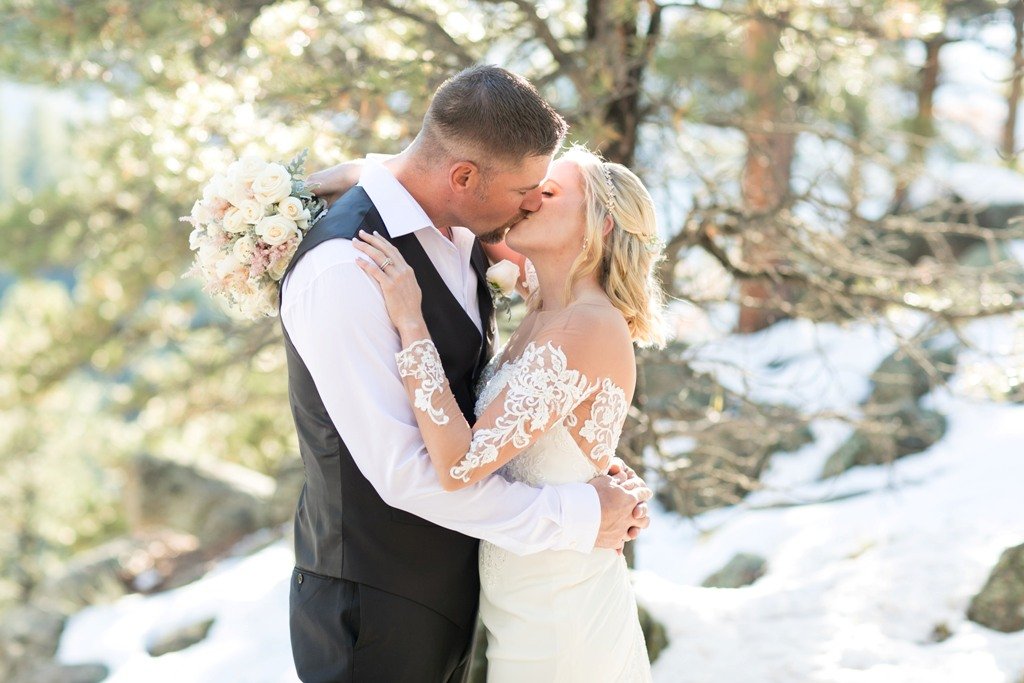 ​"We rate Blue Sky Elopements a 10 out of 10! I Would recommend them to anyone!!!!