Corey and Taylor's Romantic Denver Mountain Elopement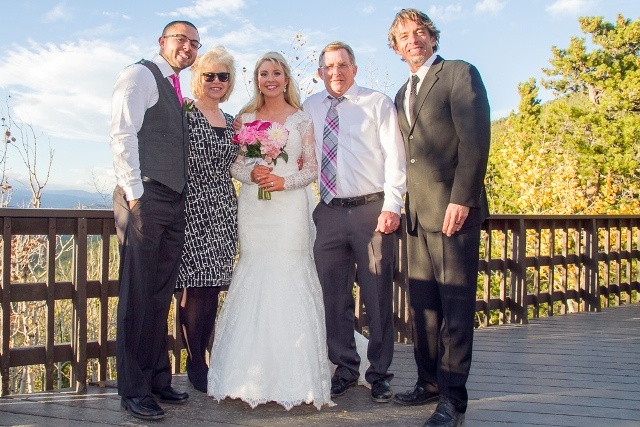 This overlook in Golden Gate Canyon State Park (just outside Denver) is one of our favorite small wedding locations. It has jaw-dropping views without having to drive miles and miles from Denver to access.
So, when Taylor's mom, Paula made the initial call to ask about our services, I eagerly pointed her in that direction. The plan was for Taylor, Corey, and Taylor's parents to come to Colorado from Arkansas for a vacation and have the wedding ceremony of Corey and Taylor be the central focus of their visit.
"Is that something we could handle," asked Paula? You betcha!! Happy to coordinate the wedding plus give them pointers on everything from where to eat to where to stay to what to do during their time here.
The four of them ended up staying at the Denver West Marriott–just a stone's throw (okay–if I had a really good pitching arm–but it is super close!) from Blue Sky Elopement's home office. So, I was able to connect with both Taylor and Paula often after they arrived here. I didn't see much of Taylor's Dad and Corey–most of the time on the day of the wedding they were out antiquing together!
I popped by the Marriott to drop off Taylor's bouquet of pink roses and hydrangeas. Taylor was the picture of composure as our stylist worked her magic on Taylor's cascading blond hair. We talked about the weather–no doubt about it–it was windy outside. And that was down in Denver. Corey and Taylor were going up to even higher elevation to be married. Not being sure what they were going to find when they arrived at the venue in terms of weather, I sent them on their way.
In keeping with tradition, Taylor didn't allow Corey to see her on her wedding day until just before the ceremony. We captured their first look.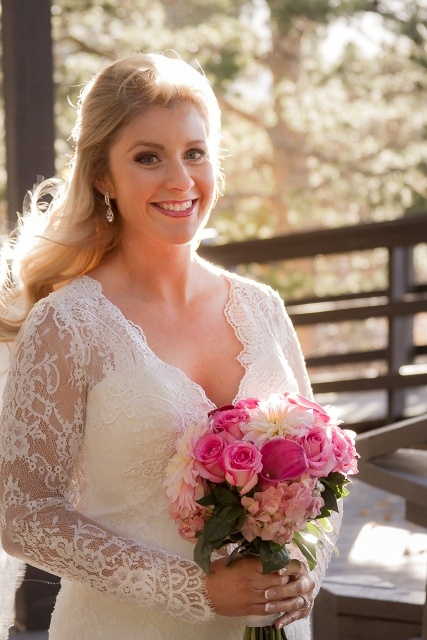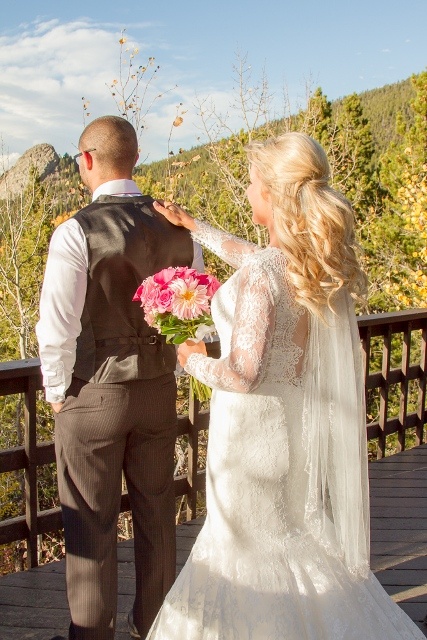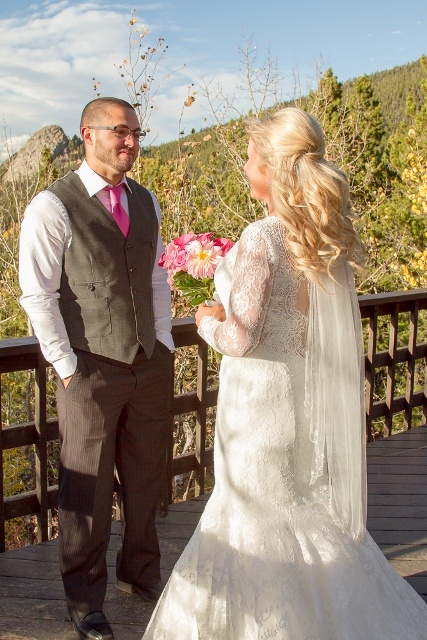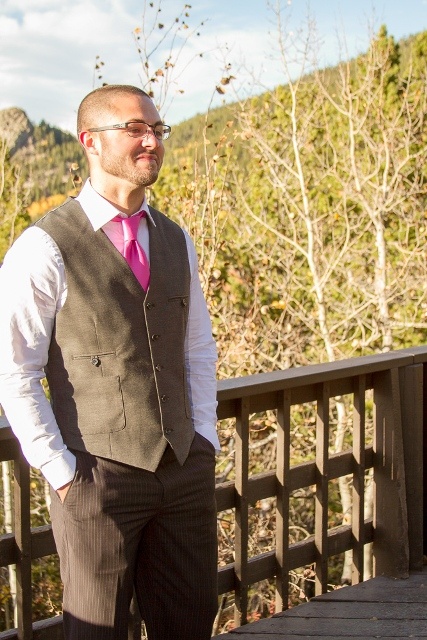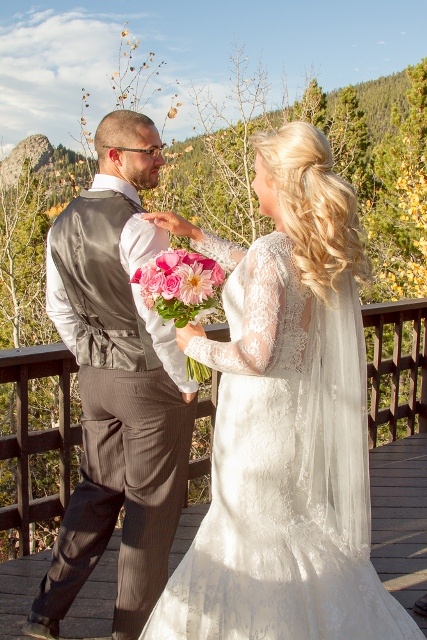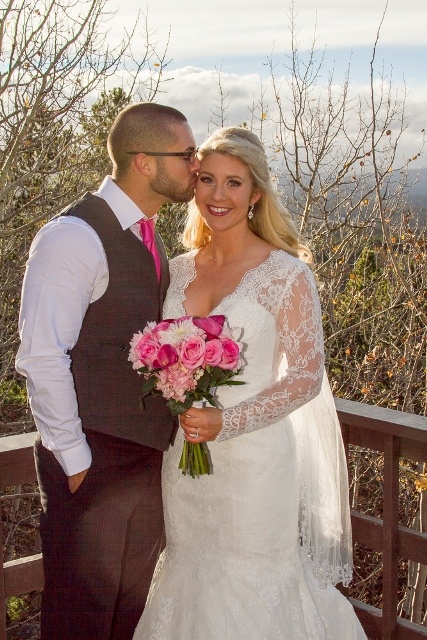 And the weather? True to Colorado's unpredictable nature, it was super cold at the Point. Did I mention they were from Arkansas? Yep. But everyone was great sports about the whole thing and the ceremony was intimate and joy-filled. Just the way they wanted.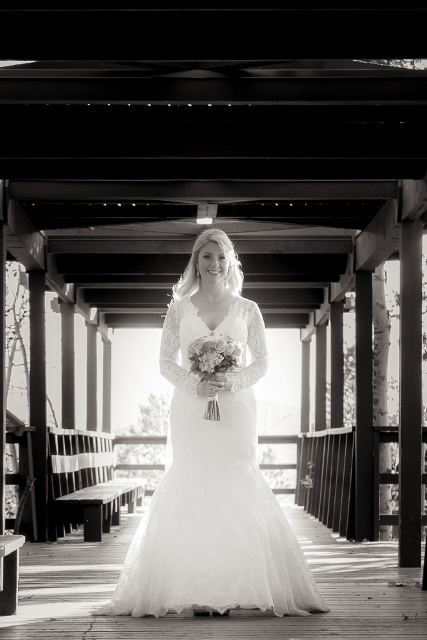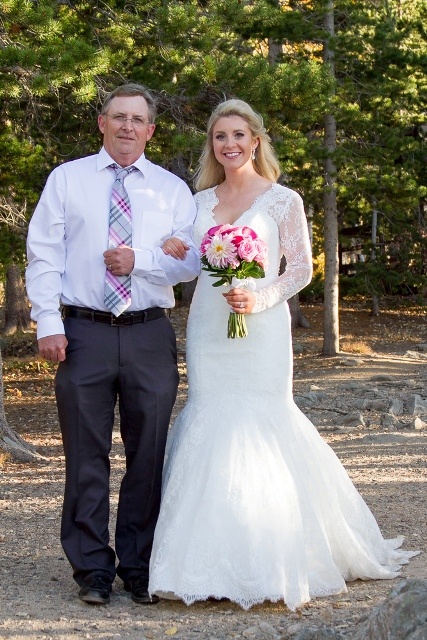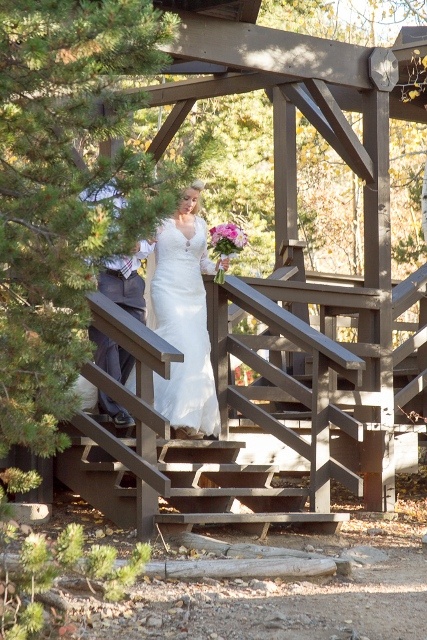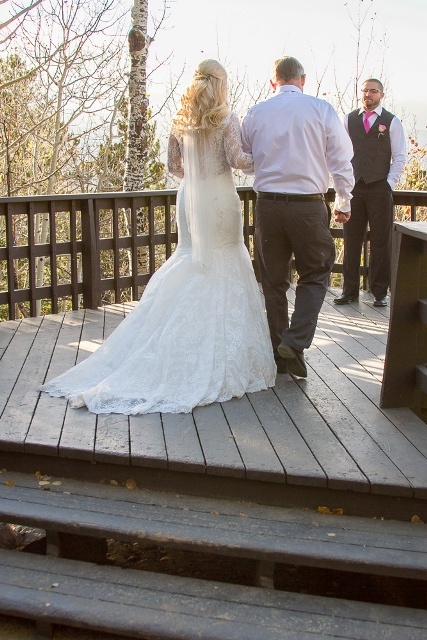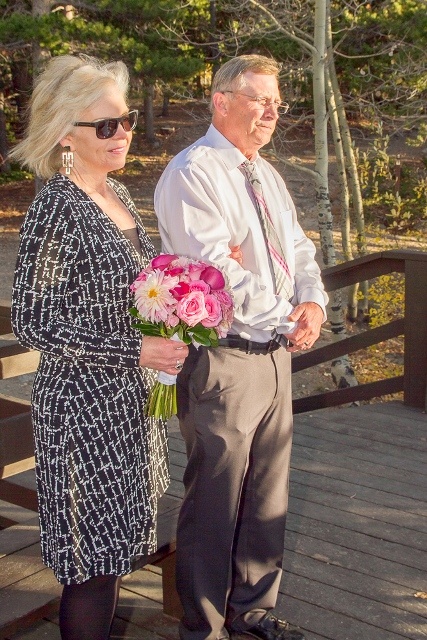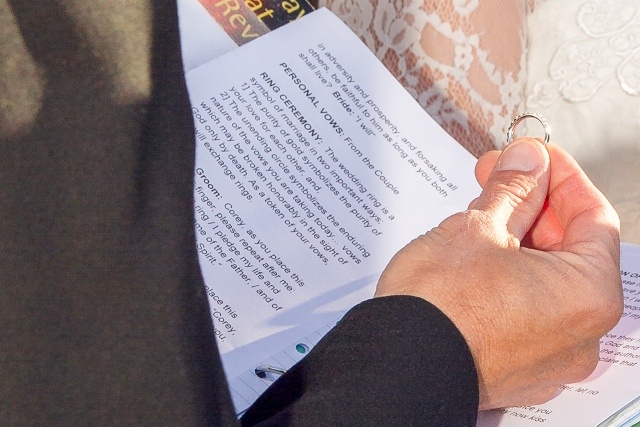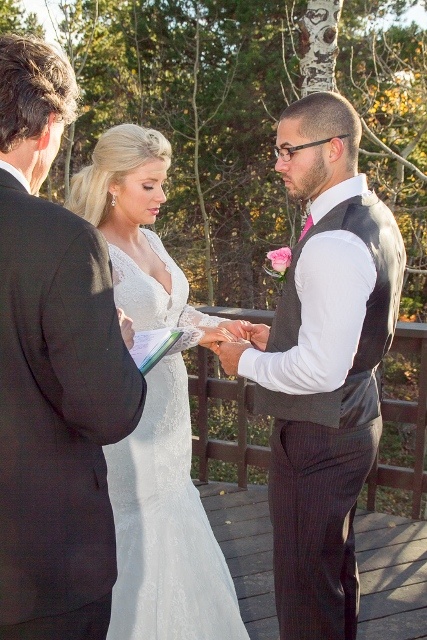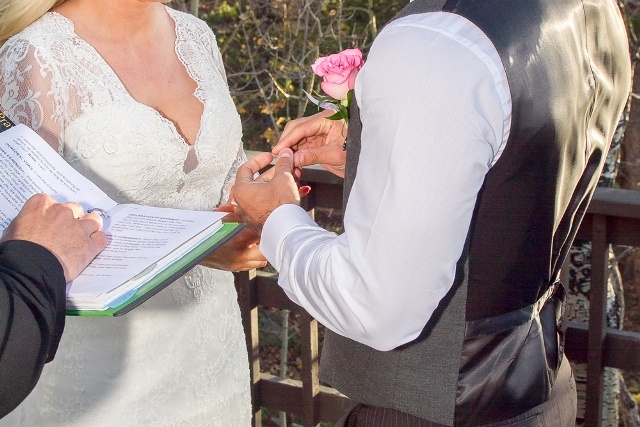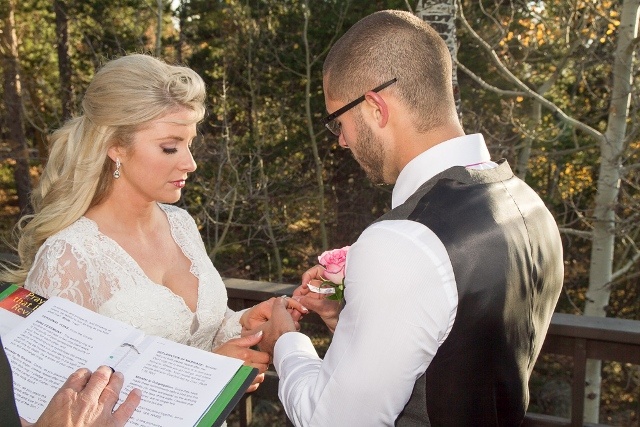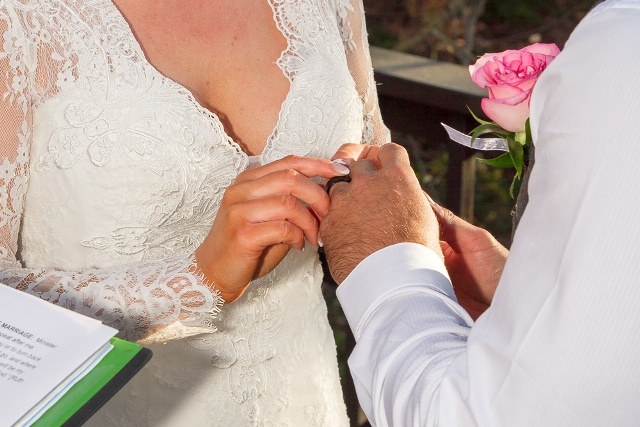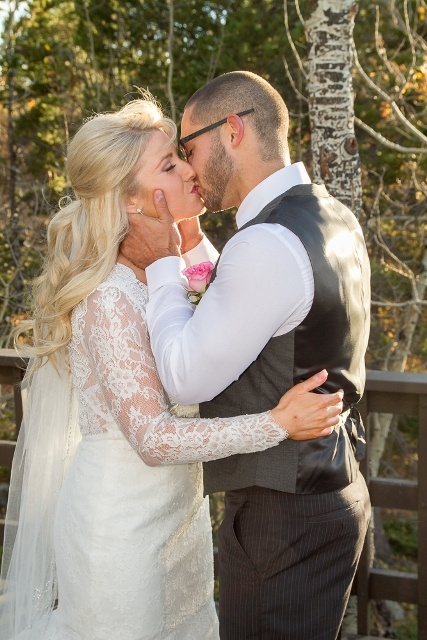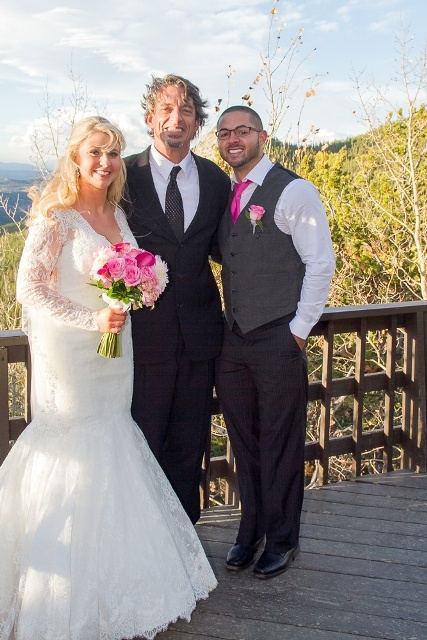 Why did they choose to have an intimate wedding? "We chose an intimate wedding because we both love to travel and we thought a nice little getaway with our families would be cozy and romantic."
And why Colorado (as if we have to ask!)? "We chose Colorado because Corey had been there before and thought the mountain view was astounding and I had never been but through pictures it looked gorgeous and we wanted some beautiful scenery and that is just what we ended up with on our wedding day!"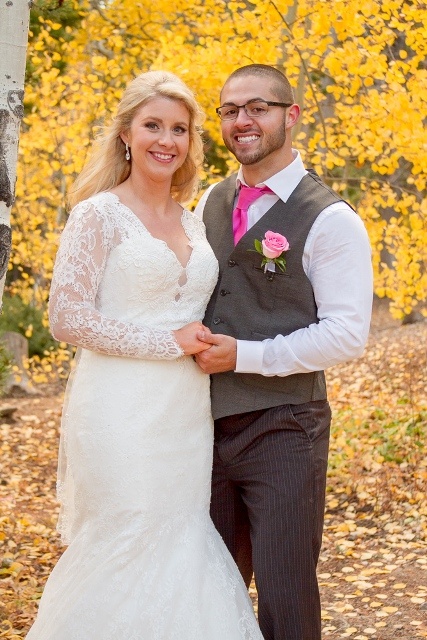 Taylor describes her wedding day as "joyful, breathtaking, a dream come true." How honored are we that we got to share in such a beautiful part of their lives?
What was your favorite part of your intimate wedding?
Exchanging our wedding vows that we hand wrote ourselves.
What was the best thing about having an intimate wedding?
Sharing our lifelong commitment to one another in a small setting. It made it even more special that it was just us surrounded by Gods beautiful creation.
Any words of wisdom for couples thinking about planning an intimate wedding?
I would highly recommend it, it was a lot less stressful than planning a wedding ourselves and everything went as planned for a lot less than what we would have spent on our own.
Any challenges?
Besides it being freezing cold and windy that day everything else was perfect! (Did we mention it was really, really cold? You'd never know it from the poise and grace of this couple as captured in their photos.)
And lest you think this couple was all seriousness on their wedding day–think again. Taylor and Corey clearly know how to have a good time.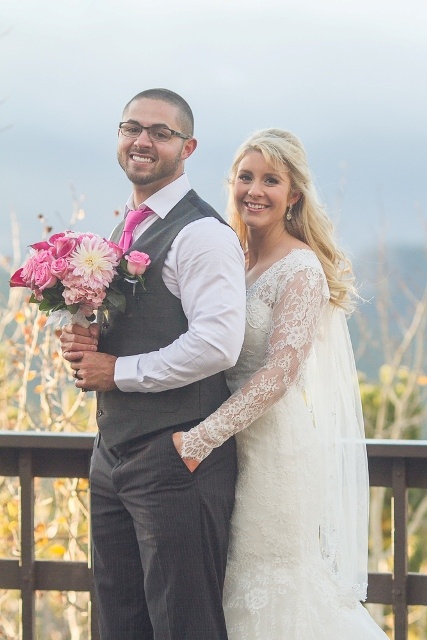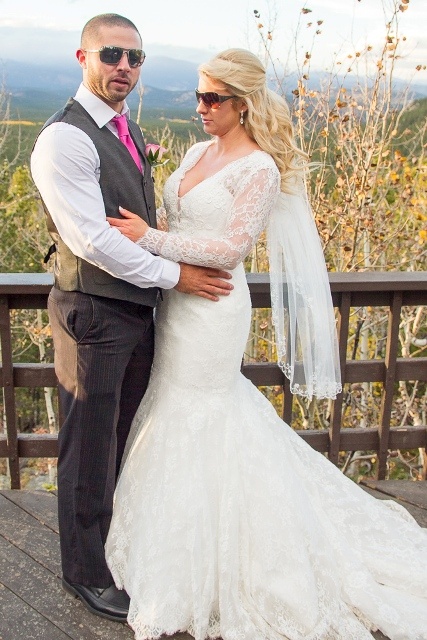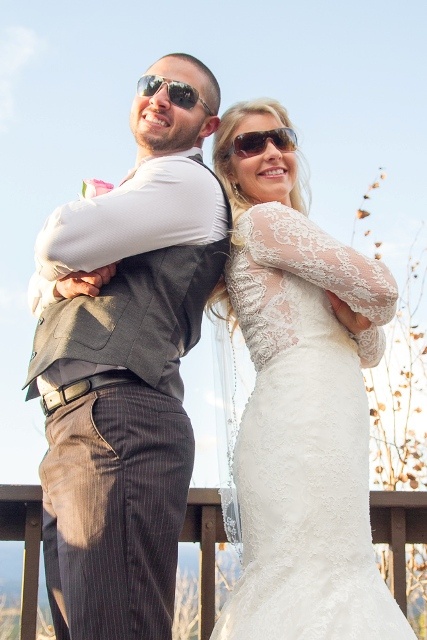 Already fulfilling his role of Best Husband of the Year, Corey was ready with some and warm (and matching!) socks for his new wife.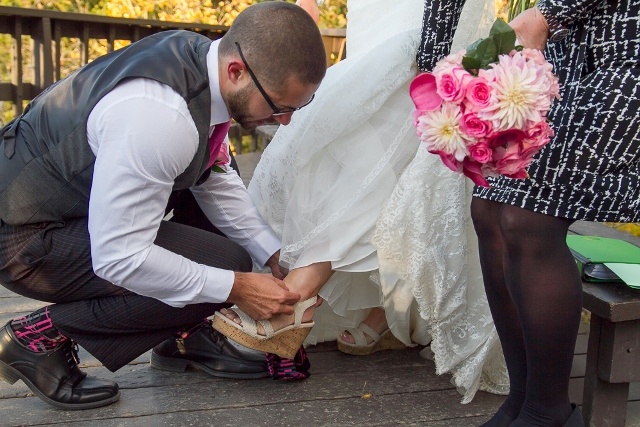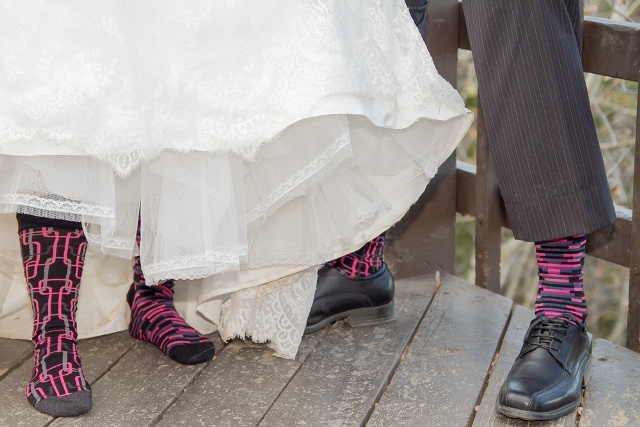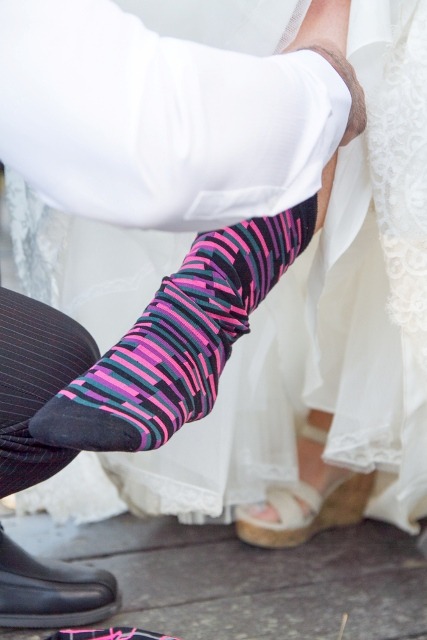 Love and blessings to Taylor and Corey. Thank you so much for allowing us to be part of your special day!