A Breckenridge Winter Wedding for Anne and Tanner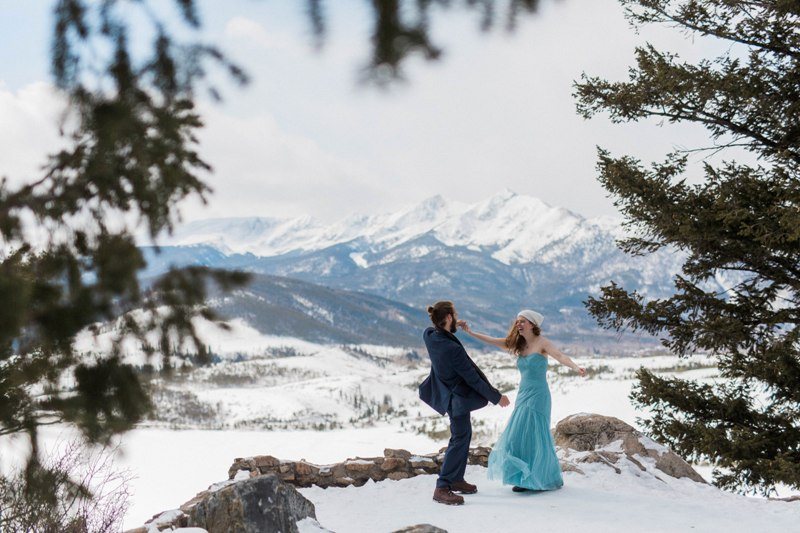 The best elopements are ones where we combine the couple's individual styles, values and preferences with our experience, area knowledge and access to the absolute best-of-the-best wedding professionals.
That was especially the case for Anne and Tanner's Breckenridge winter wedding. High school sweethearts Anne and Tanner came to Colorado at the end of February to be married among the snowy mountains. If you've read my other blog posts about winter weddings in Colorado you know that–while they are breathtakingly gorgeous–they also can present unique challenges in the high altitude and weather department.
I'll admit, I was concerned a bit more than usual for these two. Anne and I got to know each other through phone and emails (they started planning with us a year in advance) and as I got to know her, she revealed some health issues that I knew were going to be impacted if we had a severely cold day for their wedding. Throw in the fact that they were going to be spending much of their time in Colorado at altitudes of over 9,000 feet and my Mother Hen-o-meter threatened to go off the charts.
That's where the combination of listening to the couple's wishes together with some been-there/done-that experience on my part (and some common-sense precautions by Anne and Tanner) synergized perfectly into the once-in-a-lifetime experience that we hope all of our couples get to have.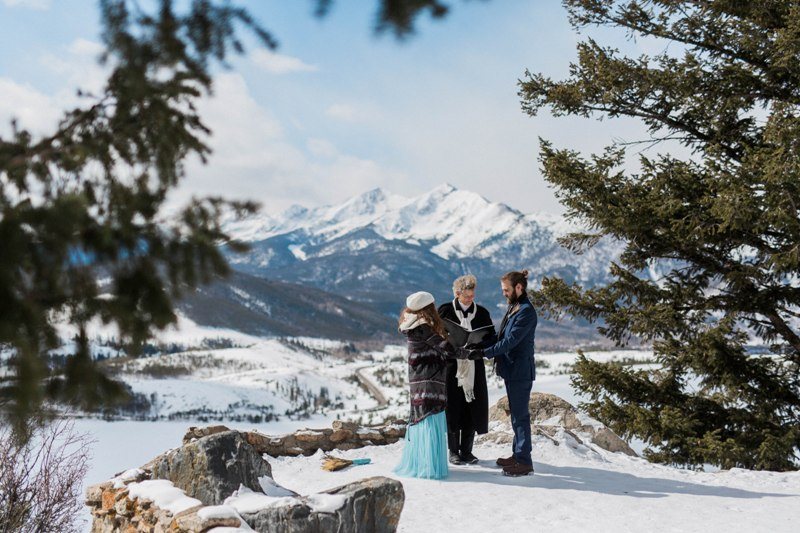 These two did everything right–arrived in Colorado well in advance of their wedding in order to acclimate to the altitude before their wedding day, asked questions when they weren't sure, and allowed for enough breaks in the action so no one had to rush about. And they followed my advice to dress warmly for their wedding ceremony.
They made their entire Colorado trip all about the two of them, which, in my humble opinion, is the perfect way to start married life.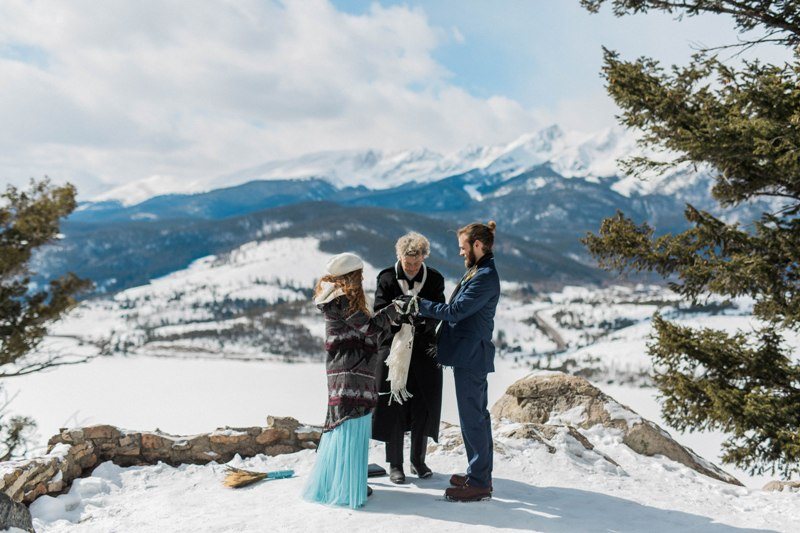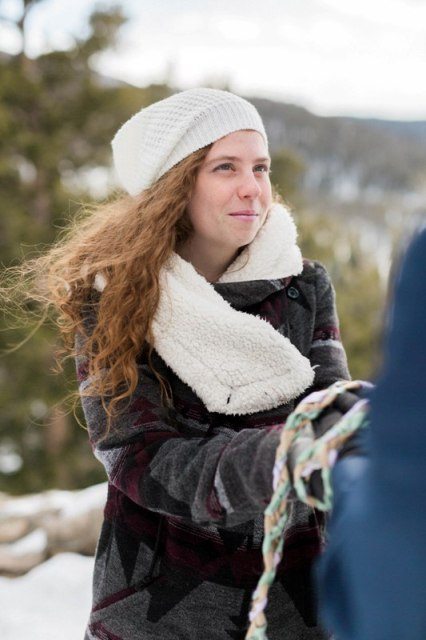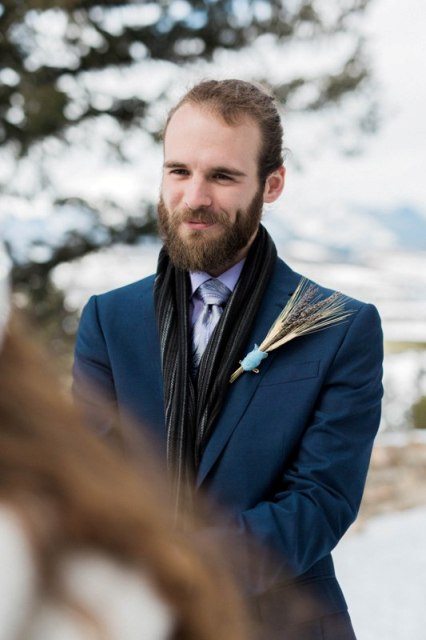 They wrote their own ceremony (with a bit of coaching from us) in order to honor their joint Atheist and Pagan beliefs–incorporating a hand-fasting as well as the drinking of the quaich (a two-handled drinking cup)–a Scottish tradition of unity.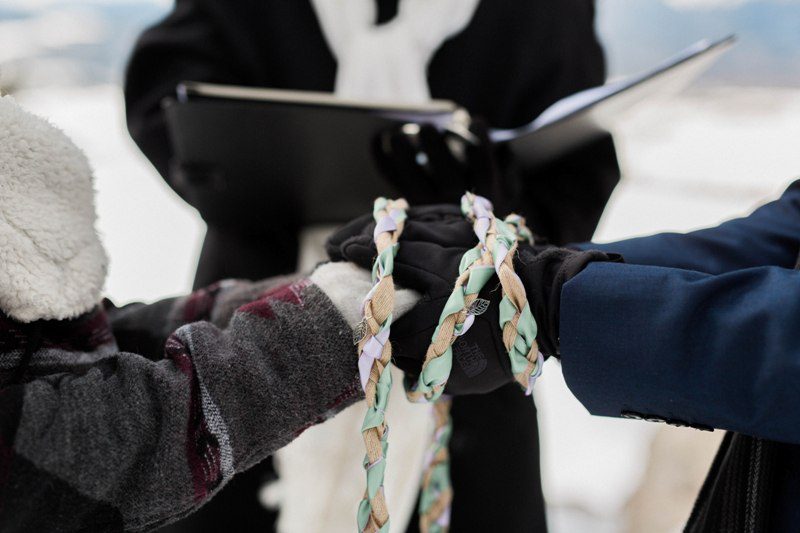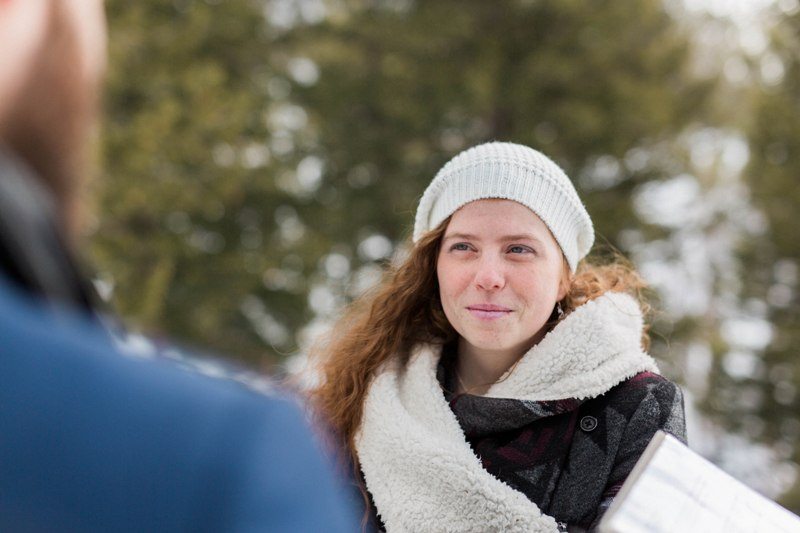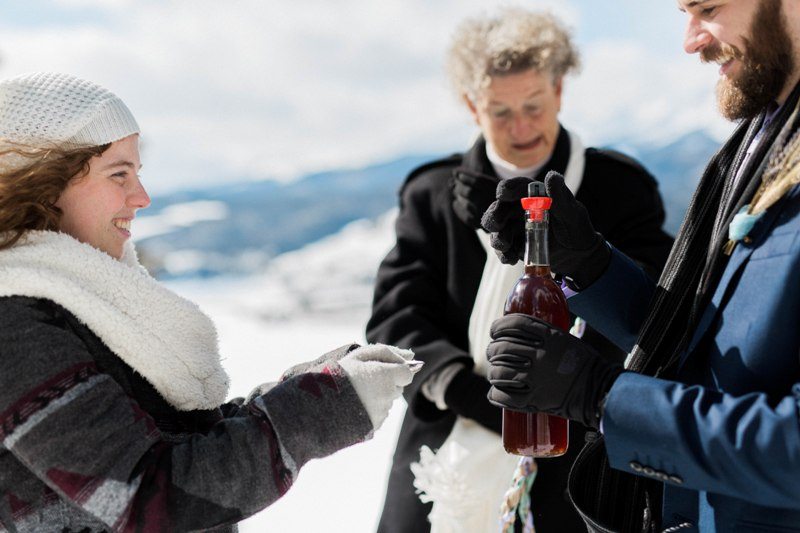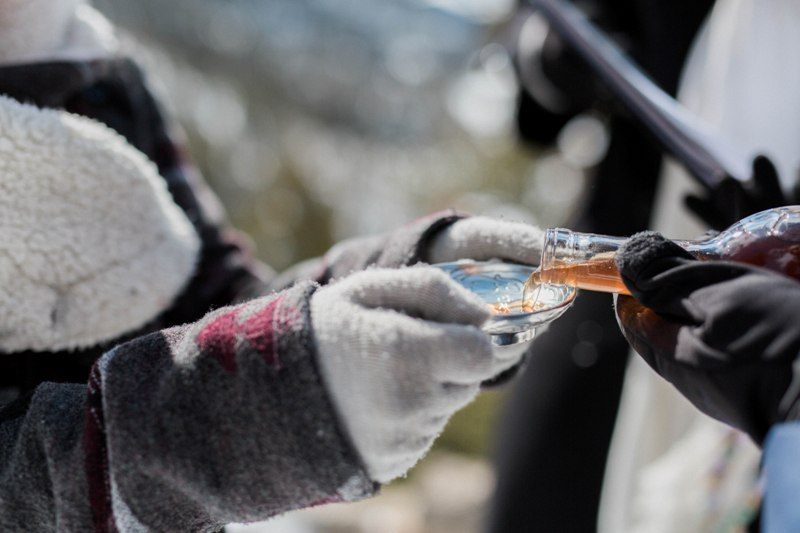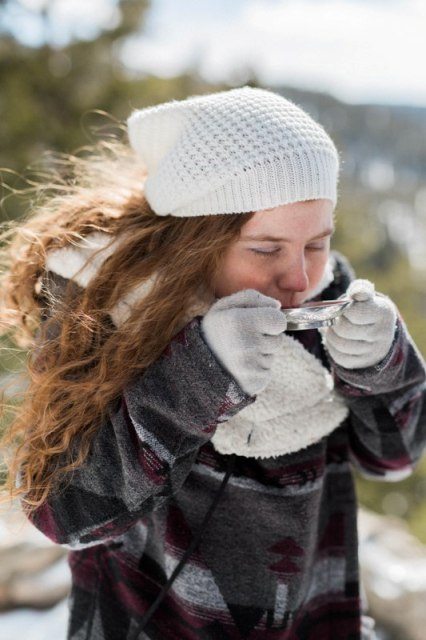 For more info on the Quaich Ceremony, click here.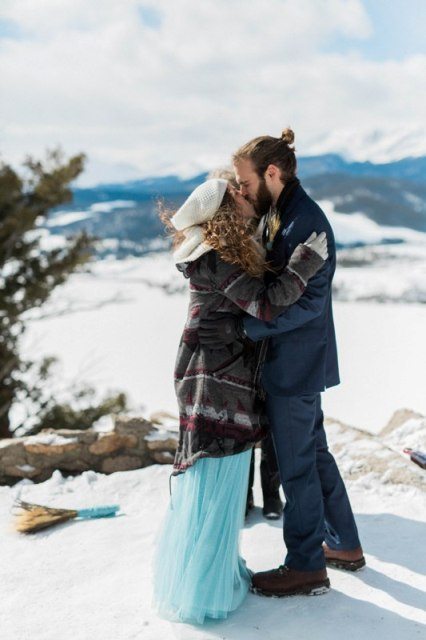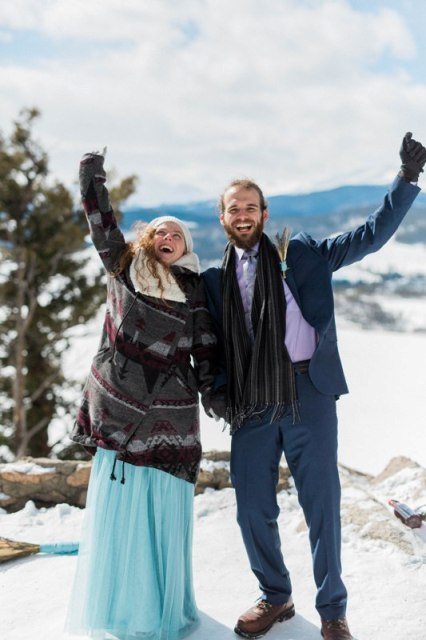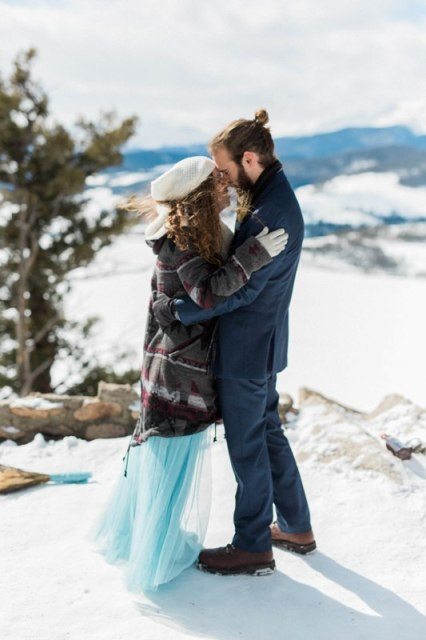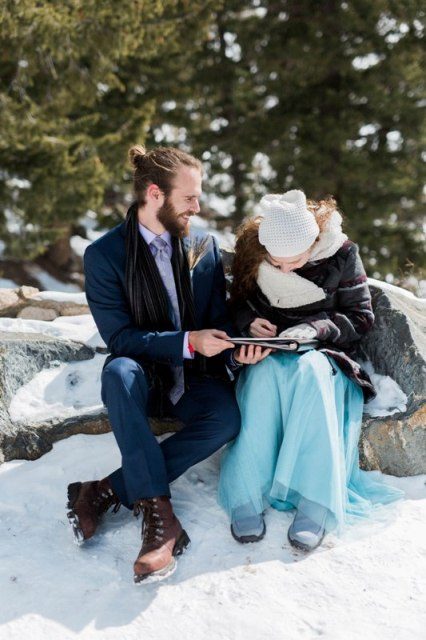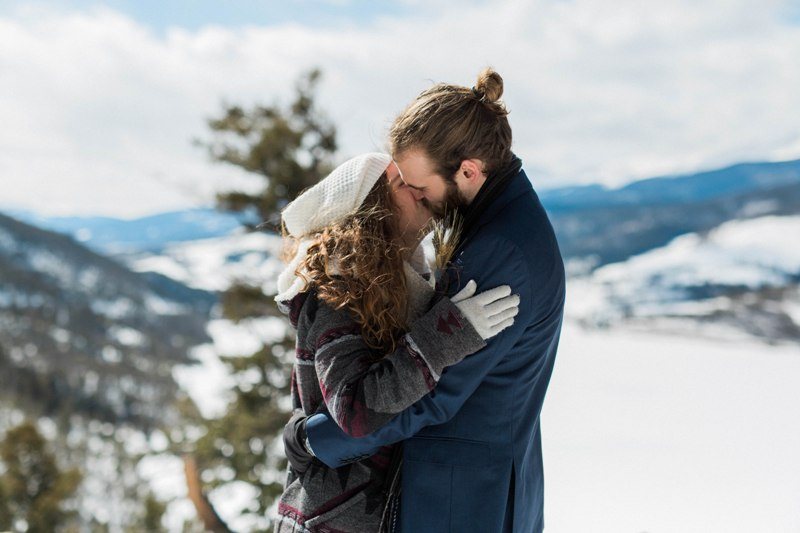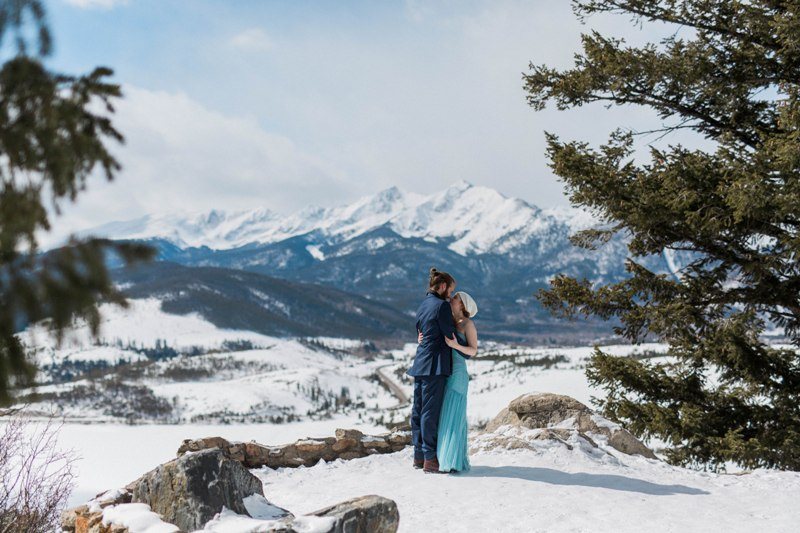 After the ceremony, the best thing ever–Anne shrugged off her winter coat to revel her jaw-dropping aqua blue wedding dress. And the two began to dance…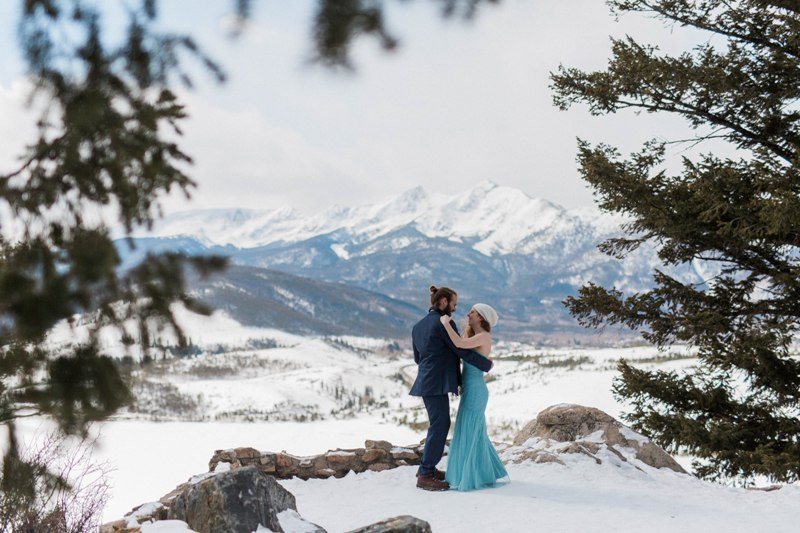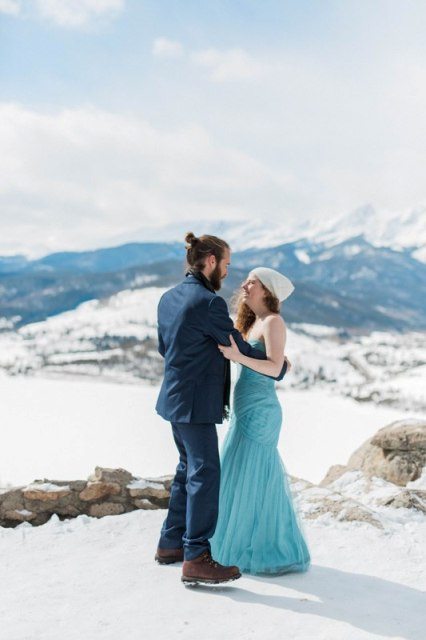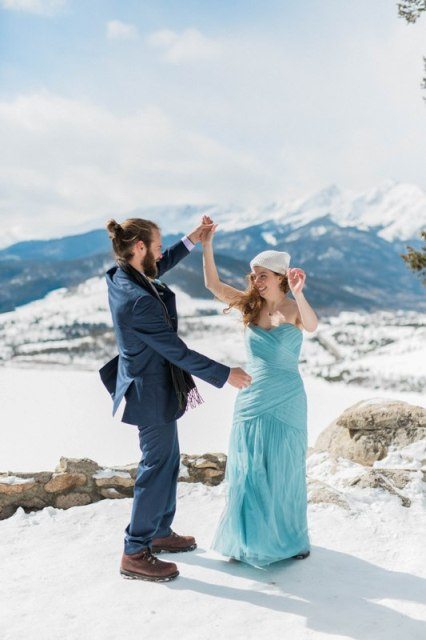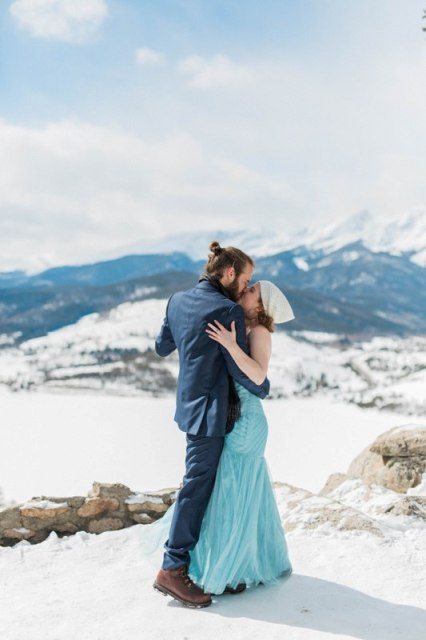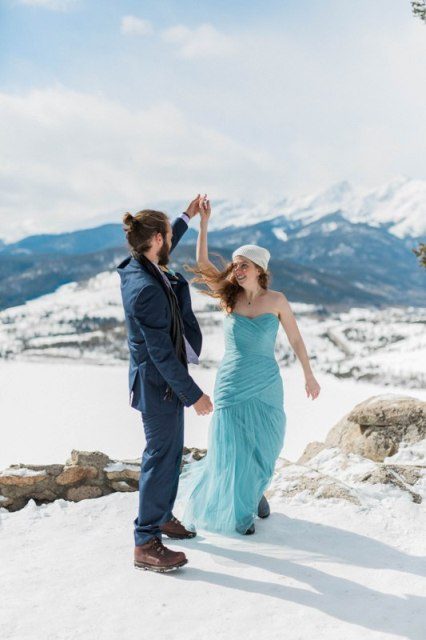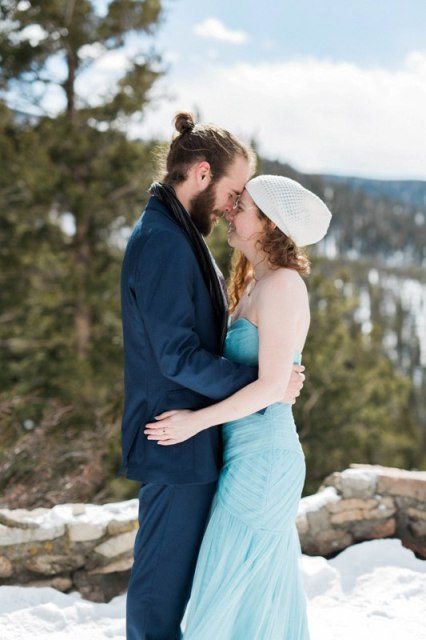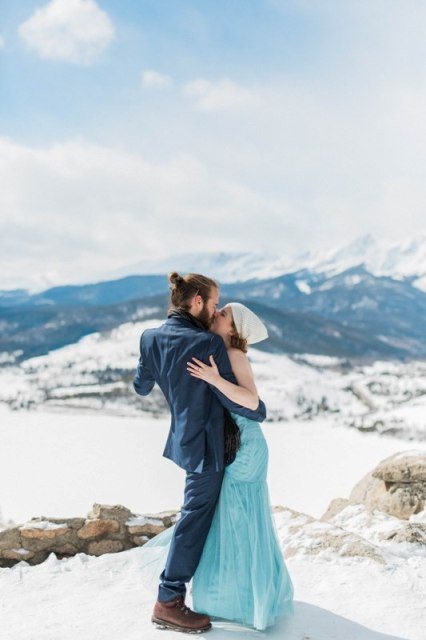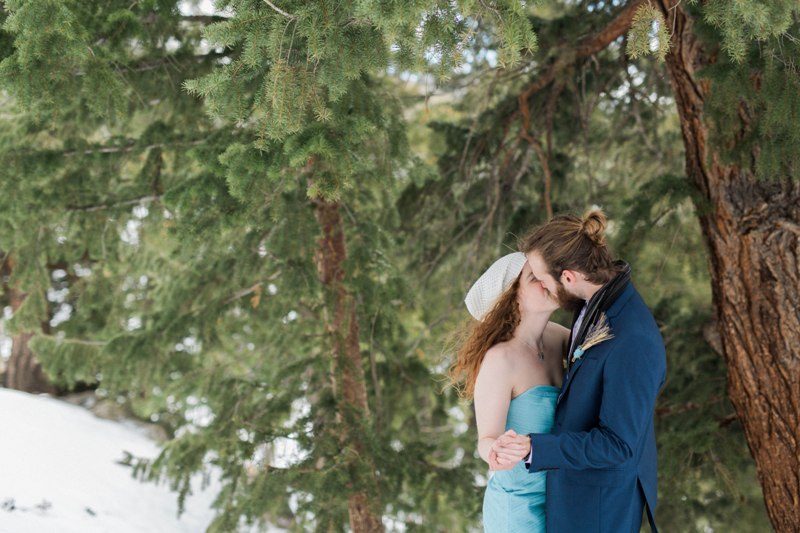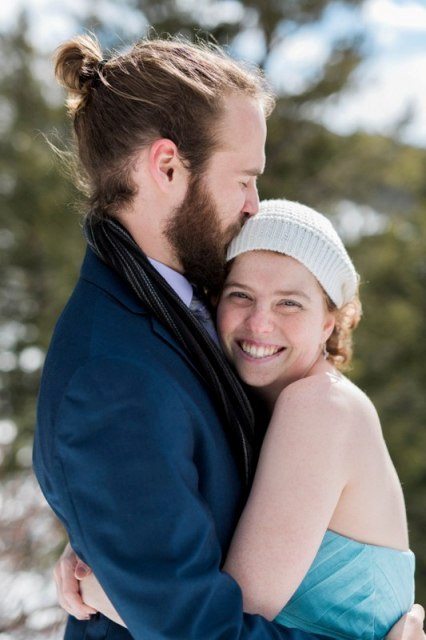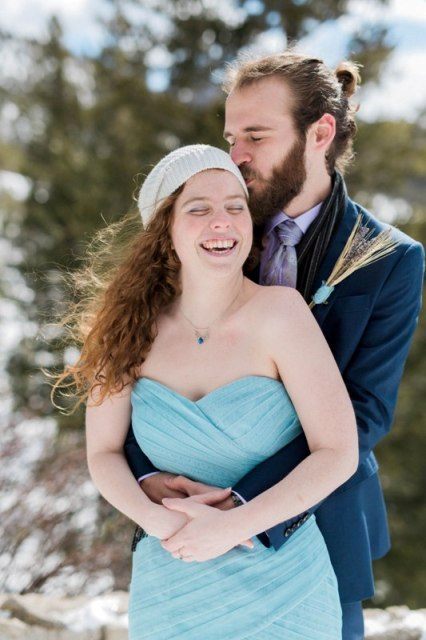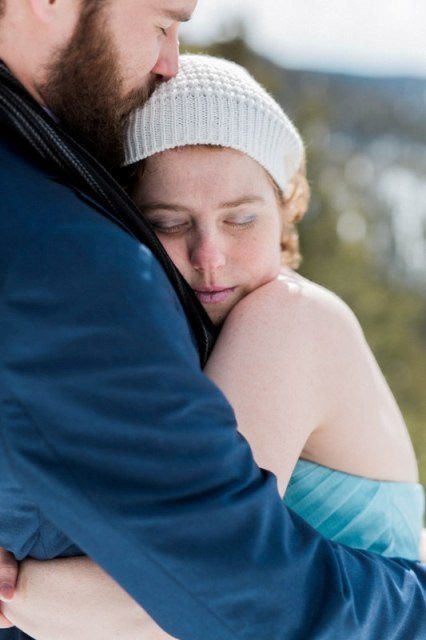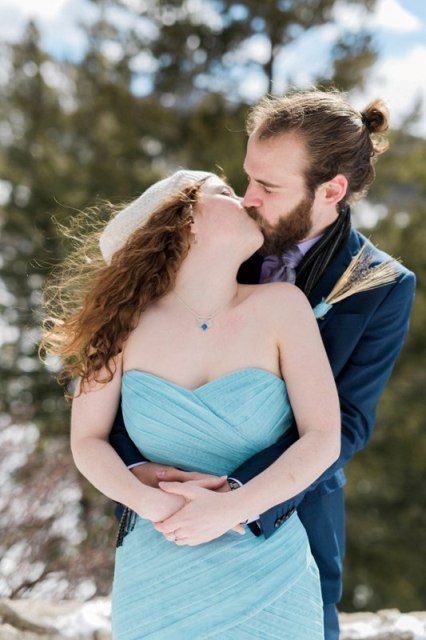 Anne and Tanner married on the eighth year anniversary of the day they met. Here's a bit more of their story and why they chose to elope:
Why did you choose an intimate wedding?
"We wanted it to be special to us. That meant just the two of us so we could really focus on each other and have a stress free day to enjoy. We 100% made the right decision and have no regrets about getting married just the two of us."
What made you select the location you did?
"The photos! We fell in love with the view when we saw photos of other weddings there."
What words best describe your wedding day?
"Amazing, relaxed, sweet. We loved being able to wake up and take our time getting ready, and then the breathtaking view at our location. We both felt on top of the world!"
What was your favorite part of your wedding day?
"The personalized ceremony we had. We were really able to work with our officiant to make a ceremony that was special to us, including a hand-fasting and traditional quaich drinking."
Did you face any challenges in eloping?
"Not as many as we thought. Our families were a little upset at first, but seemed to come around. Anne has a few health challenges, but by working with Blue Sky Elopements we were able to hand everything over to them and not have to stress over details. They were able to help us get everything in order and we never had to worry."
What was the best thing about having an intimate wedding?
"Getting to spend it focused only on your partner. We had a reception after we got back for the families, and it was a lot in a short period of time! We're both introverts, and it was invaluable to focus just on each other. We actually remember our wedding day too! Many people say they have large blanks in their memory because of stress on their wedding days."
Any advice for other couples planning to elope?
"Definitely think about what is most important to you. For us, having amazing photos was a priority partially because our families weren't with us and partially because of the amazing scenery! Eloping isn't for everyone, but it is still a wonderful way to make your vows together. Don't dismiss it outright just because it's not the usual."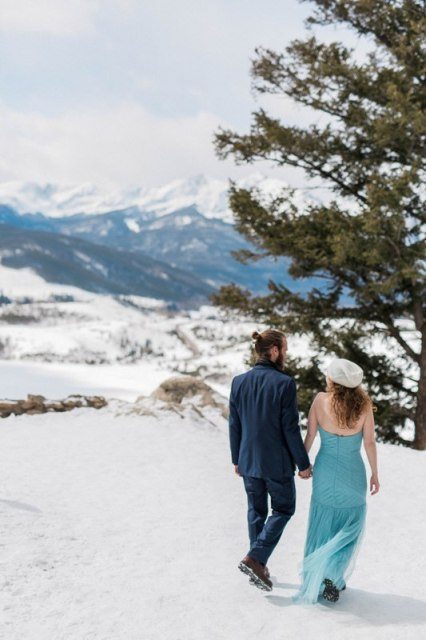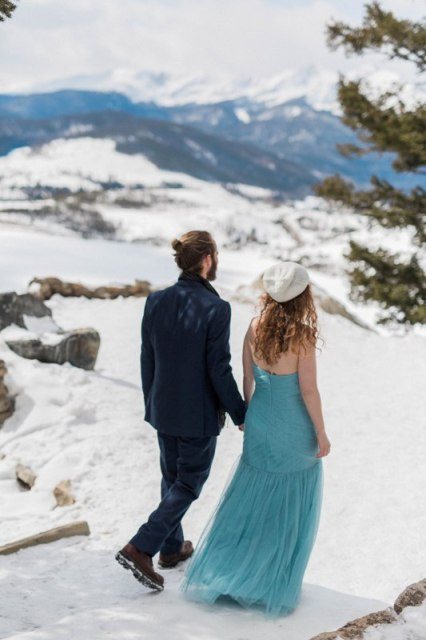 After the ceremony, our photographer followed Anne and Tanner back to their lodging to document their cake-cutting "ceremony."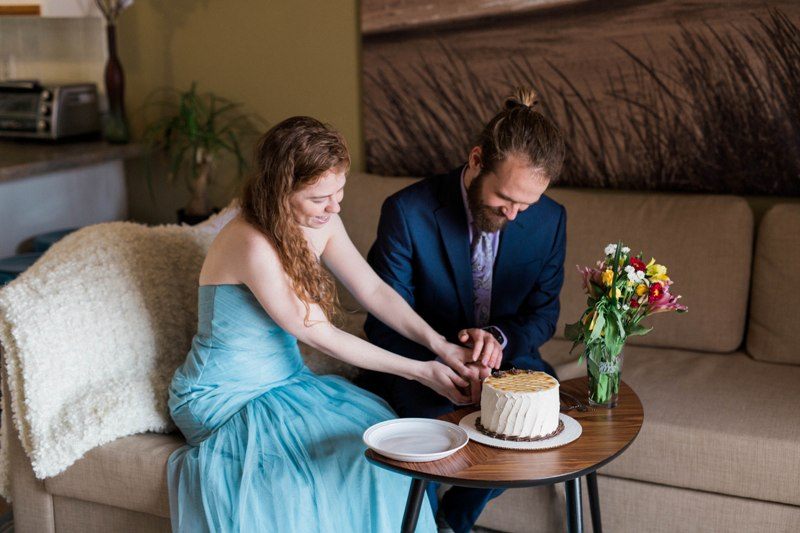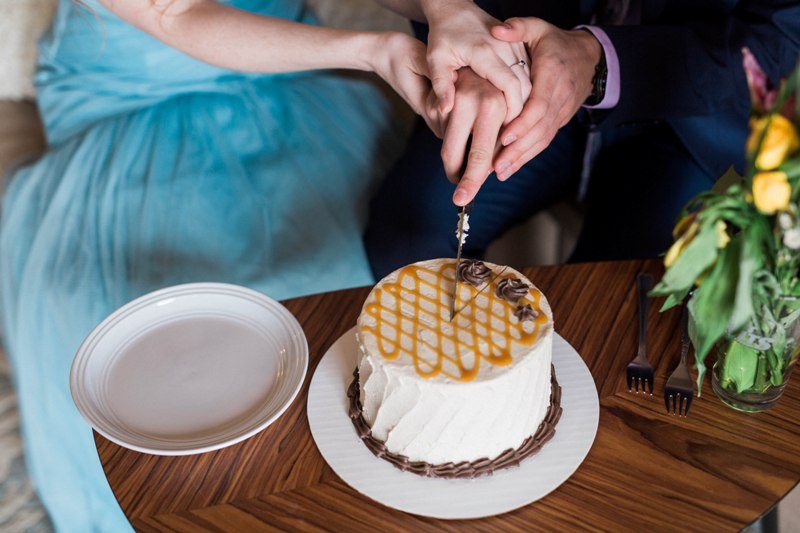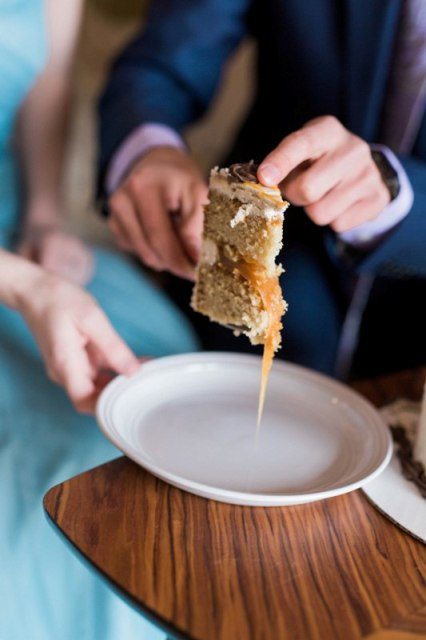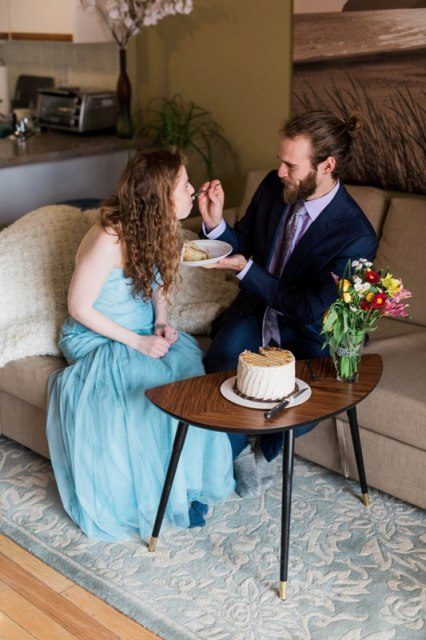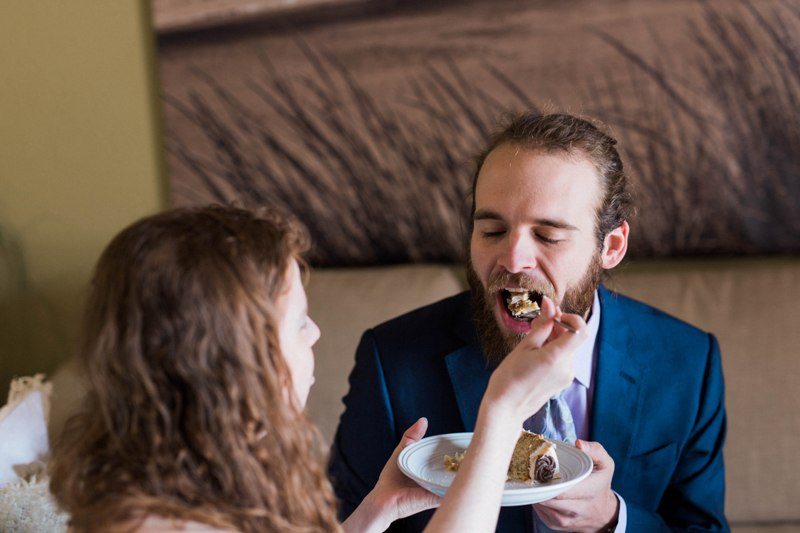 Words of praise for Blue Sky Elopements
"We loved getting to work with Blue Sky. We got exactly what we wanted and didn't have to lift a finger!"