The Best Place to be Married in Big Sur – Lauren and Alyssa's Ocean Overlook Elopement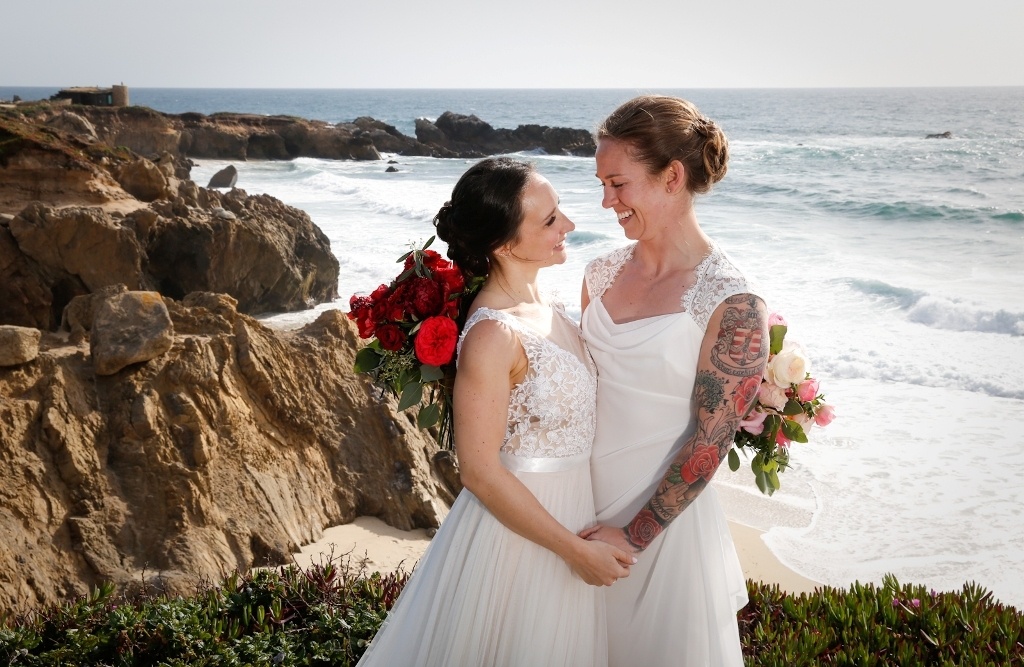 In attempting to plan a traditional wedding, Lauren and Alyssa quickly realized this was not the path on which they were meant to be. According to them: "Vendors had limited availability for us to see their spaces, or wouldn't reply back at all. The financial burden and accompanying stress cast such a shadow on what should be the greatest of days!"
Yeah…that doesn't sound fun at all!
When we had our phone consultation and began to toss around ideas for locations, it became clear that the best place for them to elope would be at one of the dramatic ocean overlooks in Big Sur. From Lauren: "As soon as we decided to have an intimate wedding, we envisioned dramatic cliffs overlooking beautiful beaches and ocean. Big Sur, California delivered exactly what we were looking for, and more!"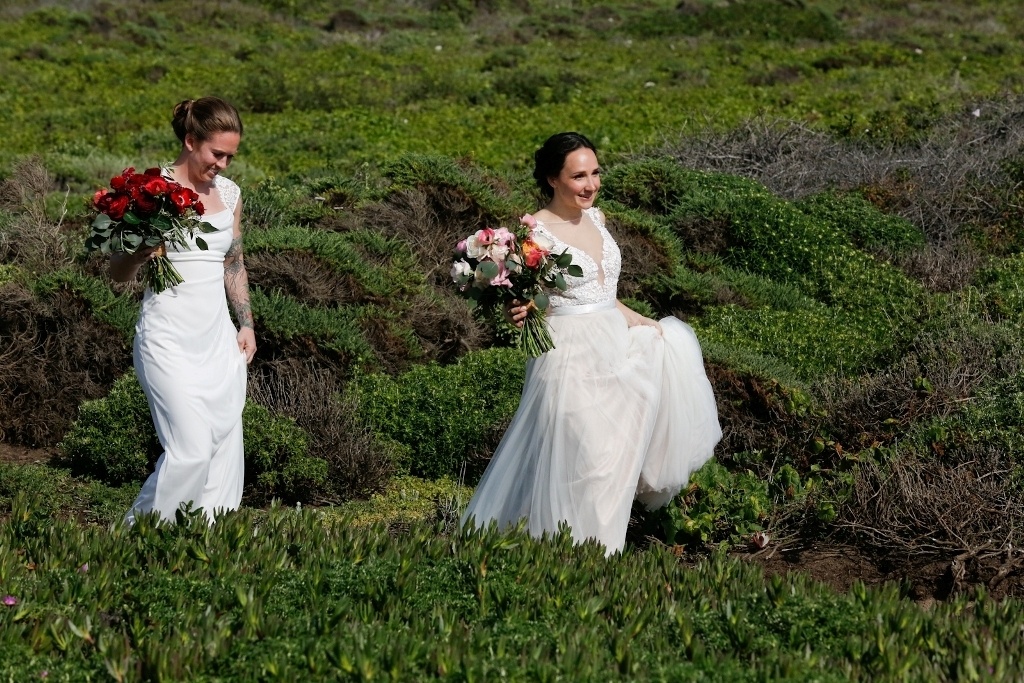 Walking to the overlook
Places to be Married on the Big Sur Coast are not Always Easy to Access
The thing about Big Sur, however, is that many of those dramatic ocean overlooks that you see from the road are not actually accessible on foot. And even if you can make it out to these points (ignoring all the warning signs that ask you to not to traipse all over the vegetation–which we would never do), it's generally not possible to get beach access.
Unless, you know…you're into rappelling down a cliff in a wedding dress…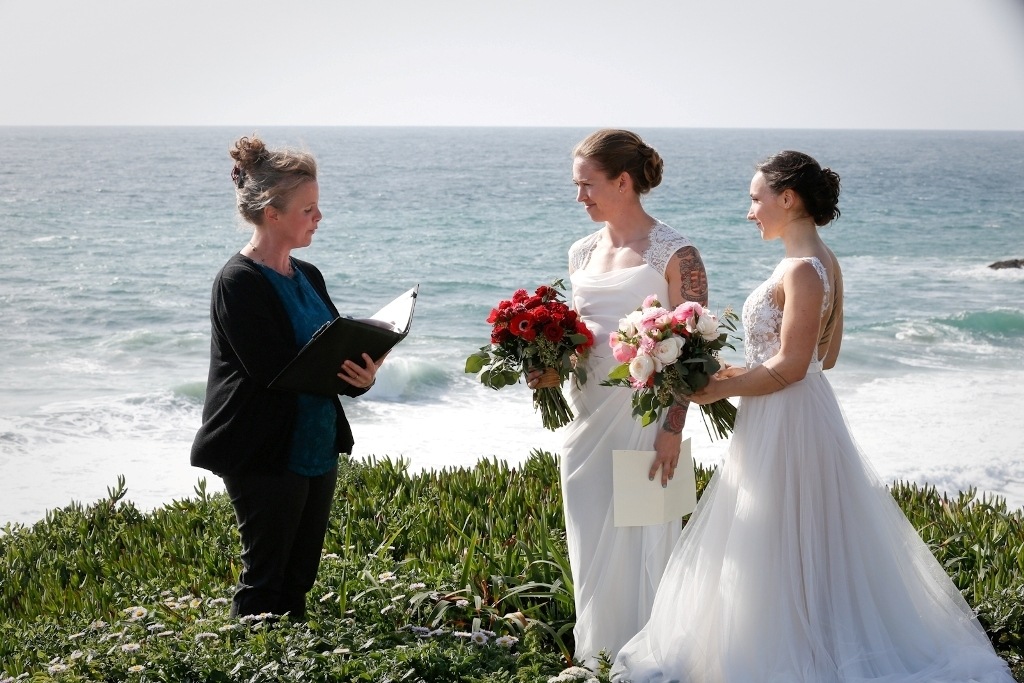 Lauren and Alyssa were great at communicating exactly what they were looking for–which made them a dream to work with–so I instantly knew which site they'd fall in love with–my favorite Big Sur ocean overlook site with sought-after beach access included.
The site offers dramatic views of the Pacific with the rocky beach below as a backdrop. Throw in the fact that the permit to be married there is under $200 and we had us a winner!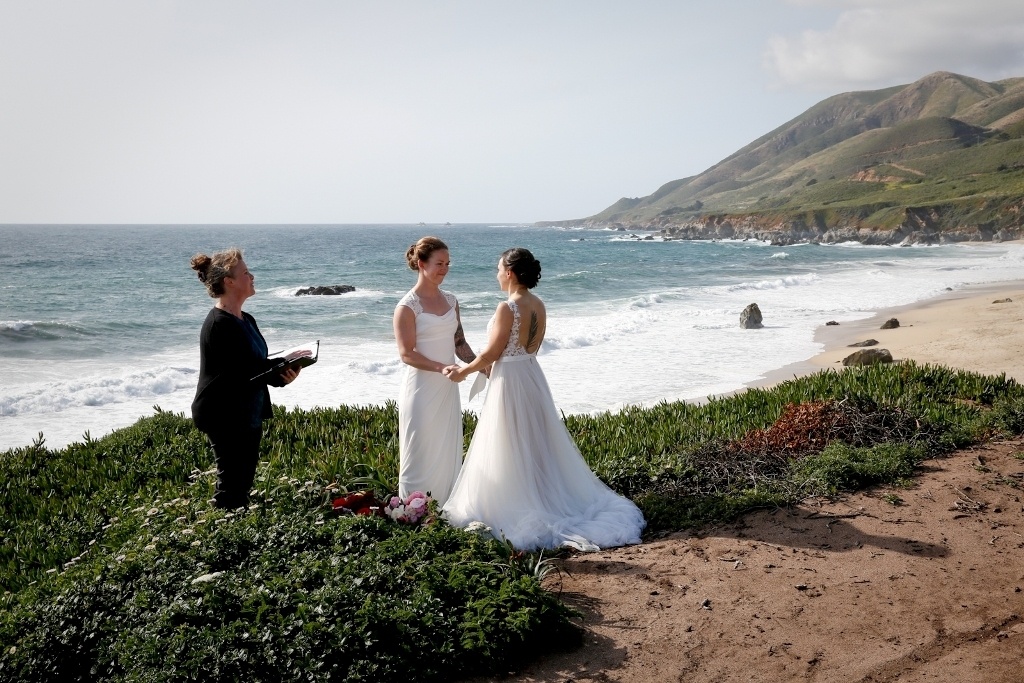 The festivities began by the ladies and their guests being pampered with hair and makeup services. (They each brought a friend along to witness their commitment.)
Best Time of Year to Elope in Big Sur
Early to mid-May is a perfect time of year to be married on the Big Sur coast (as is September/October). The hordes of tourists have yet to show up and the weather is gorgeous. The sun shone brightly for their May 17th wedding, but the beach was nearly deserted.
The ladies carried coordinating-but-not-matchy-matchy bouquets–Lauren's in red and Alyssa's in shades of pink.
Then it was down to the beach…no rappelling necessary!
In telling us about their journey together as a couple, Lauren explained, "Alyssa and I crossed paths all throughout our childhood, from working at the same places, to having mutual friends. It wasn't until 2014 that we reconnected serendipitously, and truly began our life's journey together."
How honored we were to be involved in this sacred part of their journey!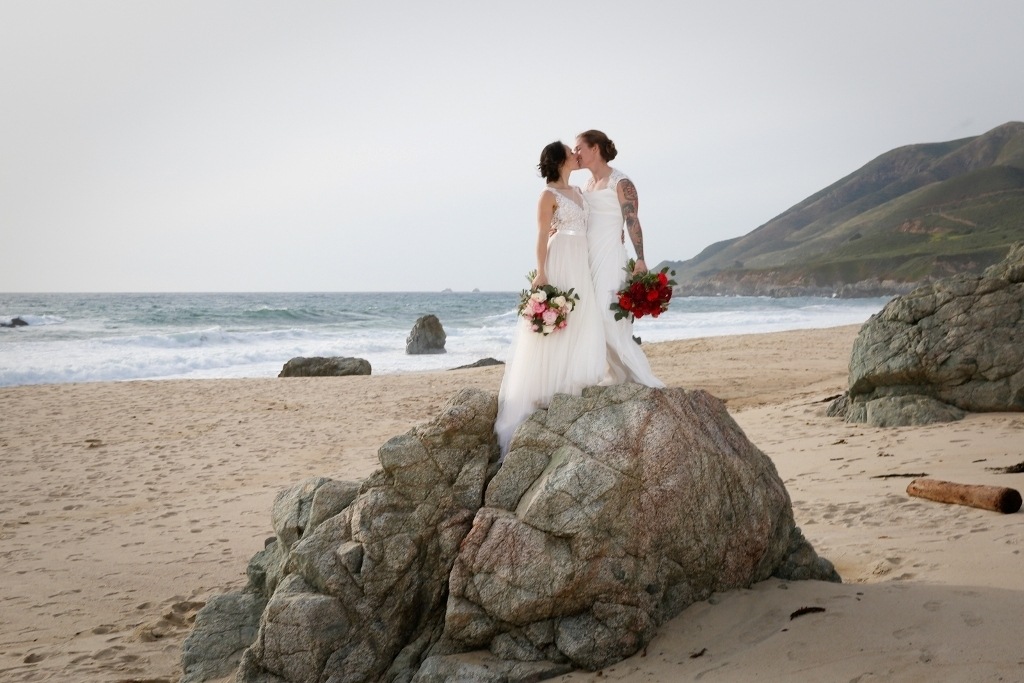 But the absolutely BEST part of their wedding–at least as far as I'm concerned–was the sporty blue convertible they rented in which to drive off into the sunset together.
What made you select the location you did? As soon as we decided to have an intimate wedding, we envisioned dramatic cliffs overlooking beautiful beaches and ocean. Big Sur, California delivered exactly what we were looking for, and more!
What words best describe your wedding day? There are so many words to use but our favorites (and what others have told us, too!) are: dreamy, romantic, classic, timeless.
What was your favorite part of your wedding day? Being in such a beautiful part of California, with it's rugged coastline and dramatic hairpin turns on Highway 1, brought such a natural element that couldn't have been done in a traditional setting. Our intimate setting of us two, plus one friend each, gave us the space to let the world melt away and fall into each other completely.
Did you face any challenges in eloping? We of course were apprehensive over what people would say or think, but we were grateful to find that most people were supportive in our choice. We were also concerned that finding vendors from such a distance (we live in North Carolina) could produce disastrous results, so we were relieved and excited to find Blue Sky Elopement and their team of qualified and trusted vendors.
What was the best thing about having an intimate wedding? The best thing was being able to focus on each other, which was the most important to us. We were not distracted by anything else, and were able to put everything else aside and be wholly present with each other throughout our experience.
Any advice for other couples planning to elope? I'm so glad we found Blue Sky Elopements, they made the entire process so easy, cut out having to vet and contact vendors, plan the actual wedding day, etc. All we had to do was make final decisions and show up! It was truly the easiest process and took away all of the stress that we were looking to avoid.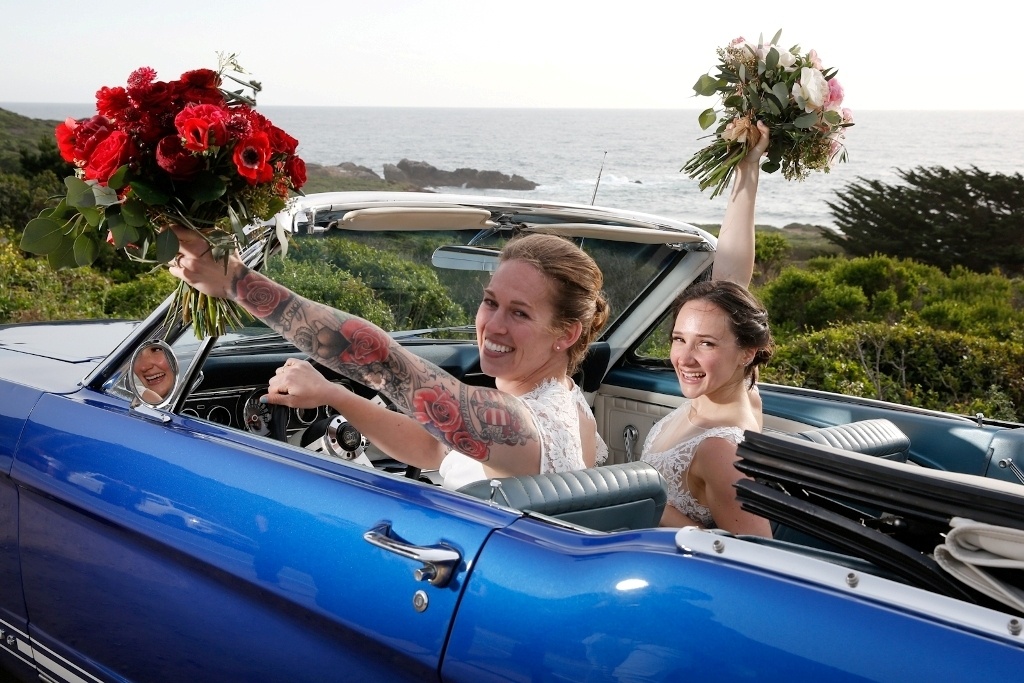 We were so pleased with the level of professionalism and accuracy of services provided. We would 100% recommend Blue Sky Elopements and their services to anyone who is considering an intimate wedding or elopement. From their rapid responses, to selection of packages, we were pleased with all services provided and are so happy with the experience we were given! Our coordinator, officiant and other service providers were nothing short of wonderful and each added their own special personality to make our day the best it could possibly be.
Services included in Lauren and Alyssa's Big Sur elopement package included: Location Consulting, Officiating, Photography, Videography, Bridal Hair & Makeup, Flowers and Coordination.