Olympic Peninsula Elopements
Eloping on the Pacific Northwest's Olympic Peninsula is an experience unlike any other. Within an hours drive, you can experience rainforests, mountains, coastal overlooks, lavender fields and windswept beaches. The natural backdrops for an elopement wedding are endless. And if you want to make it an international honeymoon, Victoria, British Columbia is an 18 mile ferry ride across the Strait of Juan de Fuca.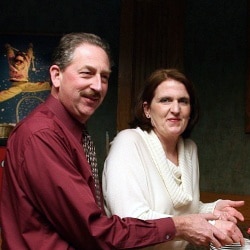 We're husband and wife team Maureen Thomson & Jeremy Myers and we love elopement weddings. (We had one ourselves!) We relocated to the Olympic Peninsula in 2018 after falling in love with its recreational outdoor opportunities. It didn't take us long to realize that these same backdrops are perfect for our couples' elopements. We're on a mission to scout out sites that our couples probably wouldn't find anywhere else. It's been so much fun and we've discovered some gorgeous gems!
If you're envisioning:
A simple nature-based wedding in a serene outdoor location
Stunning professional photography
Actually enjoying your wedding day (What a concept!)
And you want
Access to our handpicked Olympic Peninsula wedding professionals
An all-inclusive intimate wedding package
A local elopement wedding planner to handle all of the details for you
To be married in a secluded Pacific Northwest site that is breathtaking, private and relatively easy to access
A totally stress-free wedding experience!
And you DON'T want:
To be the center of attention in front of 200 people on your wedding day
Amateur wedding vendors
The uncertainty of trying to plan a long distance elopement on the Olympic Peninsula
Hordes of tourists milling about as you say "I do"