Getting Married in the Time of Coronavirus
The New Normal for Getting Married in the Time of Coronavirus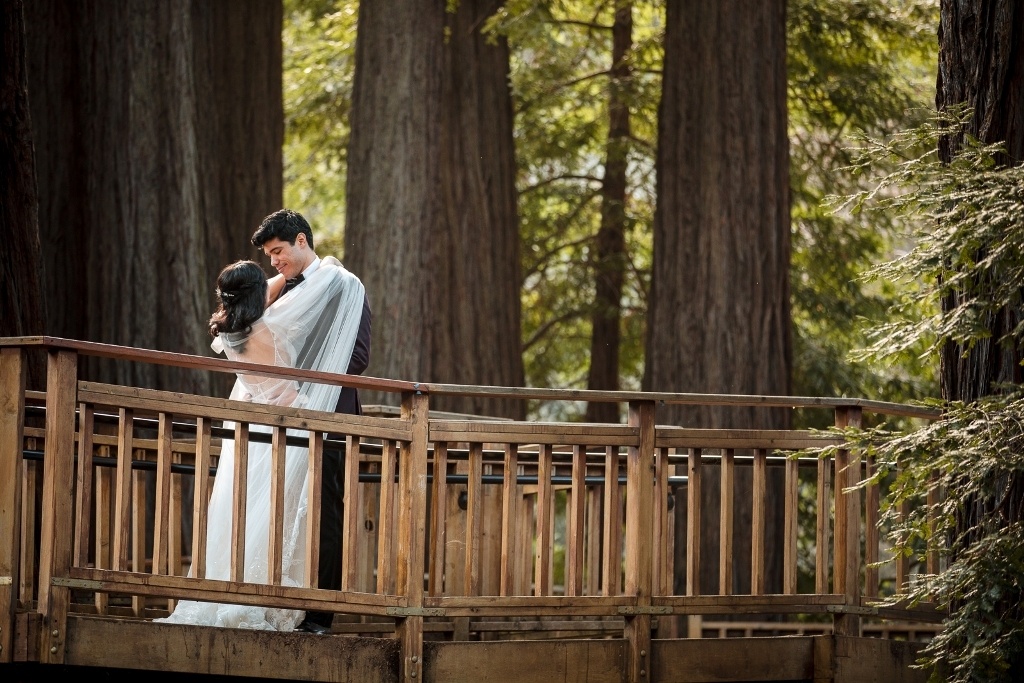 Kenny & Carlos said their redwood "I do's" prior to the California shelter in place order–on January 30, 2020.
I'm going to sprinkle pictures of our past elopements throughout this post–primarily to give us all some inspiration and hope that there will be a light at the end of this tunnel eventually.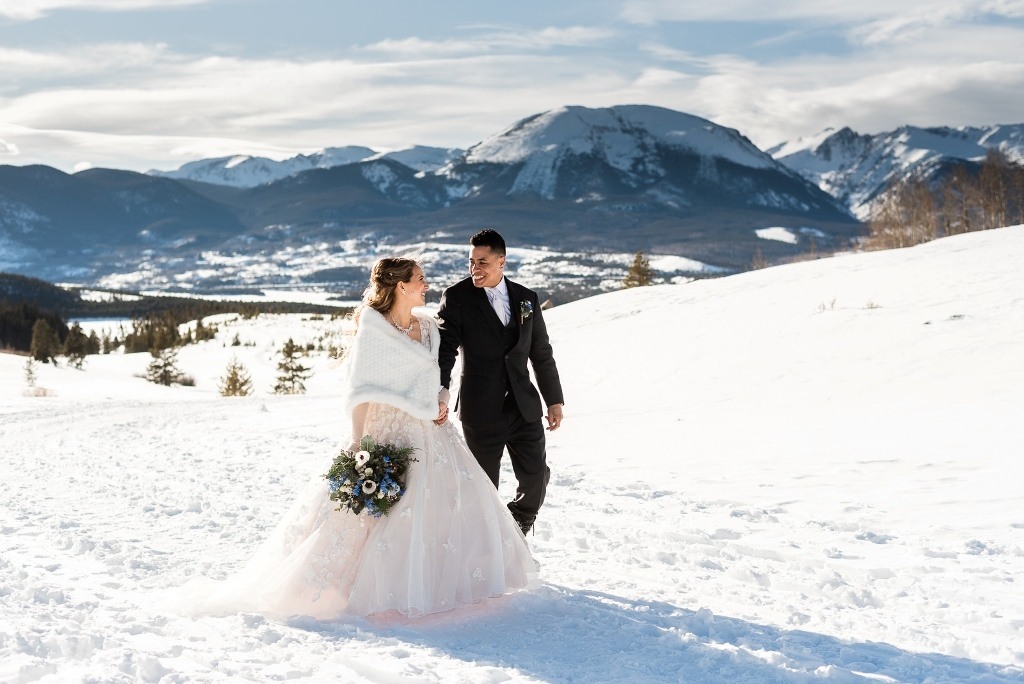 One of our last Colorado weddings – held on Leap Day 2/29/20–before the stay at home order was issued.
So… here we are. The blog post I wouldn't have envisioned writing in a million years. What's the "new normal" of getting married going to look like during and after this time of Covid 19?
As I write this, the three states we serve (yes, we are planning to expand into the Olympic Peninsula of Washington state later this year) are all on some version of stay at home/shelter in place orders. I have to pause a minute here to express my gratitude to the state leaders of California, Colorado and Washington for the proactive and cautious approach they've taken in managing the Coronavrus pandemic. All three states have been on the forefront of implementing social distancing and other measures designed to mitigate the spread of this disease and get us back to normal as soon as it's safely possible.  I'm confident that our state leaders aren't going to pull the trigger prematurely when it comes to easing restrictions that ensure our couples can safely marry.
What do the Stay at Home/Shelter in Place Orders mean for Engaged Couples?
It's all well and good to offer kudos to our state leaders, but what are engaged couples supposed to do? At present, most county clerks offices (a.k.a. the people who issue the marriage licenses!) are closed. And–in spite of what you might see advertised by less than knowledgeable officiants–there is no state of which I'm aware that currently allows virtual weddings (where the officiant and the couple are not physically in the same place) so don't fall for that scam; your marriage will not be legally recognized.
April 19, 2020 Update to the above: New York is now allowing virtual wedding ceremonies. I'll update this space as new processes are implemented.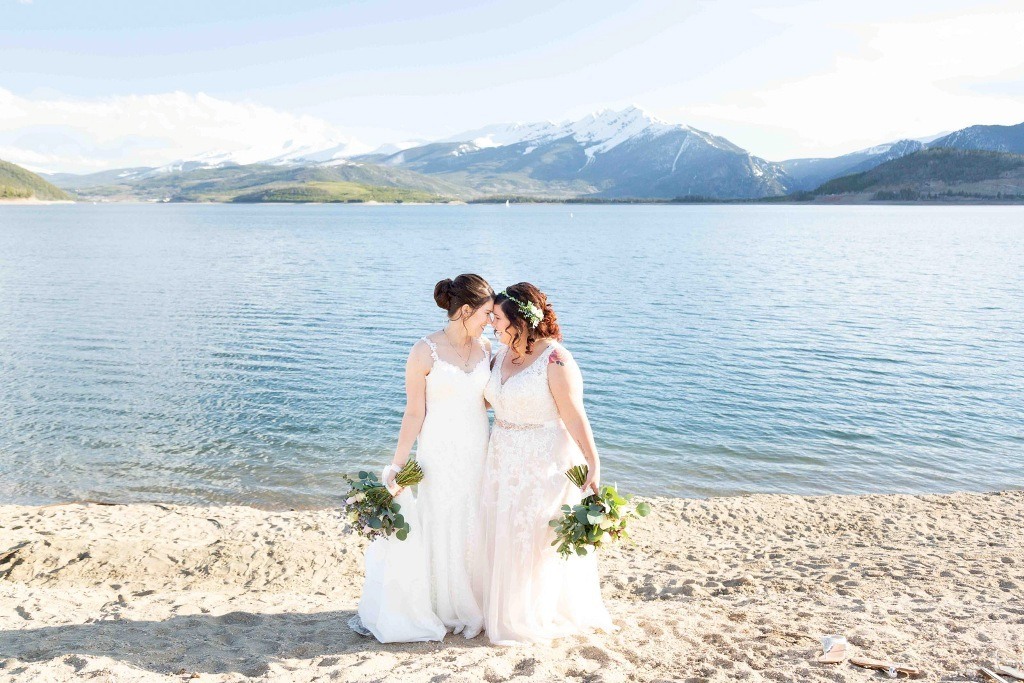 Remembering the summer of 2019–when you could get married on the shores of Lake Dillon in Breckenridge (before social distancing became a buzz word.)
Let's Not Disregard Where You Might be Emotionally
First of all, let's take a moment to acknowledge your disappointment and grief. How much does it suck lemons that your special day is being torpedoed by an unprecedented (at least since something like the Middle Ages!) global catastrophe?
Yeah, it stinks big time. It's totally unfair. Know that we understand that and no one is telling you to put on your Big Girl and Boy Pants and just deal with it. You have very right to feel frustrated, angry, victimized and… well… just plain like kicking things. (Great! Just when your gym is closed to boot!)
I get it.
I've spoken to a lot of couples whose wedding plans have been impacted by Coronavirus. Almost all of them have apologized for their feelings of grief and frustration–making comments along the lines of, "I know in the big scheme of things, not having the wedding I dreamed of might be considered insignificant; I should be grateful that we have our health (each other, our families, our jobs–fill in the blank). But I'm really disappointed."
I think it's important to not diminish your loss just because you perceive it's not as great as someone else's. Comparing your Coronavirus anxiety and regret to that of others is not going to help you through this.
It doesn't matter where you fall on the spectrum: you feel what you feel; you're entitled to your grief and pain. Not that you need my permission (but sometimes it helps to hear things from an objective source), but glossing over your grief and putting on your best Pollyanna face probably isn't the best course of action right now.
Please don't feel guilty for whatever feelings you have over this.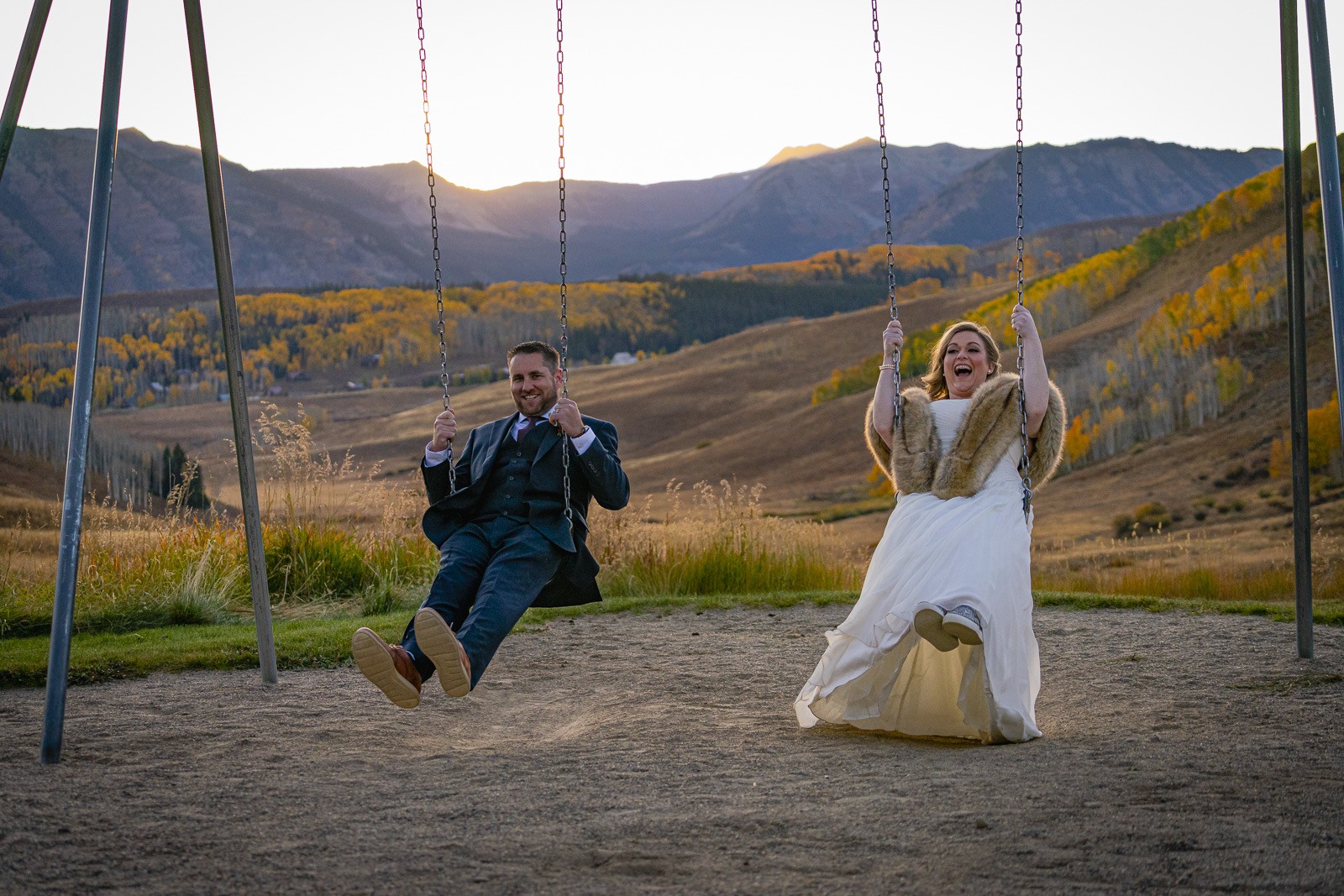 Ahhhhh… the carefree days of pre-Coronavirus elopements. Kevin & Cortney's was in Crested Butte.
THEN What… ?
But once that phase is over, you're going to want to move into action mode. Taking action is tough, though, when the future is so very uncertain. However, if you're like me, being in limbo is NOT your forte, so sitting around and waiting ain't gonna cut it.
Everyone wants to chart their own course and most of us don't like being at the mercy of things beyond our control. So, the trick here is to bring as much of the wedding planning process back under your control as possible. (Full disclosure: for some of you, that might mean a radical rethinking of the things you thought were "must haves" for your wedding day.)
Popping the bubbly after eloping in Colorado.
I'm going to try and give you some direction as best I can. Without a crystal ball or a Coronvirus Handbook, I can't predict the future, but I can hazard a guess and give a few recommendations that might help you to dial back on some of the uncertainty.
Elopement Weddings are the New Normal
First of all, if you were thinking about going small for your wedding to begin with, congratulations–you already have the wedding mindset that equips you well for the current state of affairs.
Eloping couples were made to weather this crisis. You've already opted to go small for your wedding day. And let's face it, at no time has this ever been more true–the smaller, the better!. Many couples who were planning a larger affair are now rethinking their old ways and opting to downsize. You're ahead of the curve!
Eloping when the beaches in California were open for business.
What will Coronavirus Mean for Future Weddings?
The name of the game is going to be smaller, intimate affairs held closer to home and probably in outdoor venues. Expect fewer guests (if any), shorter commute times from home to venue, an emphasis on the couple over the party (that can come later) and guests attending virtually.
Wedding videos are about to become big.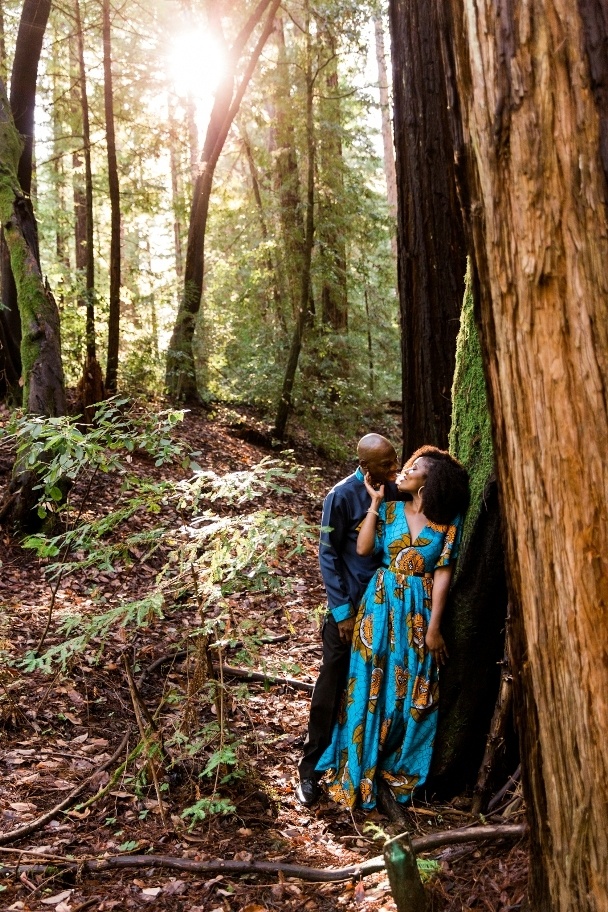 Looking forward to more intimate weddings at our favorite California redwood site once all this is over.
Things to Think About in Planning a Wedding for 2020 and Beyond
Here's my best guess as to how you can ensure that your newly revised small wedding plans will go off without any further hitches:
Plan on being cautious and making compromises until a vaccine is distributed. That's just the way it is. "Flattening the curve" and social distancing are not designed to eliminate the threat of contracting the Coronavirus. As of this writing, scientists are predicting 12-18 months for that to happen. Assuming you don't want to wait that long to be married, you're going to have to work around Covid 19 realities. Like it or not, it's part of our world for the time being.
The smaller, the better. A 20 person "elopement" may not be in the cards until as far out as 2022. And even if social distancing requirements are relaxed, do you really want to expose your parents or grandparents to any kind of risk simply so they can be there to witness your exchange of vows? The optimal number for your elopement is the two of you. Period. You can always do a celebration later with a larger group. (Another reason to put on your wedding finery and kick up your heels!) The money you save by having no guests can be used to hire a professional videographer who can document the day for your family to view later. We can also help you with live streaming alternatives for the folks back home.
Secondly, think closer to home. Jetting off to a foreign country to say "I do" is not in the best interest of your stress level for the foreseeable future. In fact, I'd go so far as to say your elopement location should be within whatever you deem to be a doable driving distance. For some of you, that might mean eloping in or close to the state where you live. (Fortunately for you folks in and within driving distance to California, Colorado and Washington, we've got you covered with gorgeous venues that are easily accessible from these three states as well as Oregon, Texas, Wyoming, Arizona, Utah, Nevada, Kansas, Nebraska, Idaho, New Mexico, Oklahoma and western Canada. And if you're up for a longer road trip, we'd love to have you. But you'd be wise to avoid air travel until a vaccine is available.
Choose an outdoor venue. Fortunately, that's predominantly what Blue Sky Elopements offers. Getting married outdoors offers far fewer hazards for contracting the virus (or any form of unhealthy crud, for that matter). Fewer surfaces to touch and lots of sunshine and fresh air! Outdoor venues offer the opportunity for appropriate social distancing and are less likely to be closed down in the event of a pandemic.
Brides, you may need to forego professional hair and makeup services. For every other service offered for small weddings, we can easily implement social distancing. But applying makeup to someone and styling their hair is a different story. We've yet to see what sort of accommodations our stylists can make in order to ensure their safety and yours, but this service is going to present the biggest challenge. We're working closely with those in the know in the beauty biz to figure this out.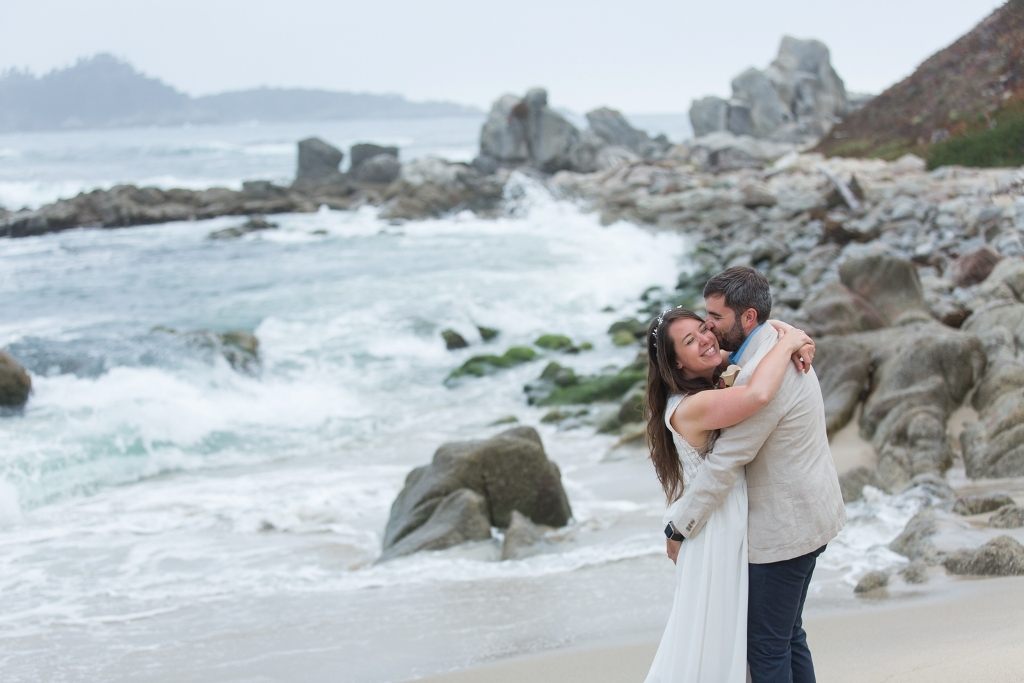 Small is going to be the new normal for weddings for quite a while.  We're good with that!
What Blue Sky Elopements is doing
Here's what we're actively doing to help our eloping couples mitigate the uncertain and ever-changing waters of the Coronavirus pandemic:
We're not sugar-coating the situation. People love working with us because we're always upfront about everything. That value isn't changing just because Covid is a part of our world. I'll tell you the potential potential consequences for the time of year, location and number of guests you're considering. And as things change, I'll keep you posted. Likewise, I'm not going to tell you what you want to hear simply to get your booking. As I've said repeatedly over the 18 years of our existence, I'm not interested in growing as big as we can as fast we can. What I am focused on is offering topnotch professional wedding services to couples for which there is a perfect fit between those services and their wedding vision. I have zero interest in forcing square peg couples into our round-hole business model. If we're not a good fit, I'll be the first one to tell you.
We won't compromise the health of our couples or our vendors. I'm going to err on the side of caution when it comes to accepting new bookings. Even if our business and government leaders say it's safe to resume near-normal activities, that doesn't mean we're going to go along like bleating sheep. Remember that our political leaders are concerned about the dual concerns of managing public safety and stimulating our now almost-dead-in-the-water economy. I don't have those competing priorities. All I care about is keeping everyone safe AND happy on your wedding day. If I can't do that right away, no worries… I'll wait. We're not going to be a part of the ultimate gaslighting that is about to be perpetuated by businesses desperate to gain back lost revenue.
We'll keep in touch with private, federal, state and municipal entities so we can give you the most up-to-date info on venue availability and the capability to obtain a marriage license.
I'm going to encourage you to go as small as possible on your guest counts. I'm not yet at the point where I'll say we'll solely work with couple-only elopements until a vaccine is readily available, but that is one possibility.
We're working on a "video-lite" offering where our professional videographers can provide a one-camera, ceremony-only video for you to share with family and friends back home in as little as 24 hours after the ceremony. (While you're free to try and livestream your ceremony on your own, note that many of our outdoor sites do not offer the bandwidth to make this happen and your cell phone microphone is generally not robust enough to capture the audio of your vows clearly. ) I'm envisioning something about 60% less expensive than our usual videography offering–a professionally-shot (using state of the art audio-visual equipment) minimally-edited video of the ceremony only.
We're committed to remaining fiscally sound. I suspect a fair number of unprepared wedding businesses will go out of business over this. I don't see that happening with any of our established professional wedding vendors (although if it does, we'll have you covered with an alternate service provider) and I can virtually guarantee it won't happen with Blue Sky Elopements. I've always insisted on having a healthy financial cushion to weather any storm. And while this is not the type of storm I'd envisioned (I was thinking more along the lines of… I don't know… our Google rankings slipping!), the potential outcome is the same. Blue Sky maintains sufficient reserves to handle all of our current payables, pay our staff, vendors and ourselves for many months to come and in general cover our anticipated overhead. Now's the time to be overjoyed that you did not book the cut-rate service provider who barely charges enough to pay their sub-par vendors and who robs from Peter to pay Paul to stay afloat. That's a tail-chasing exercise in which I'll never participate.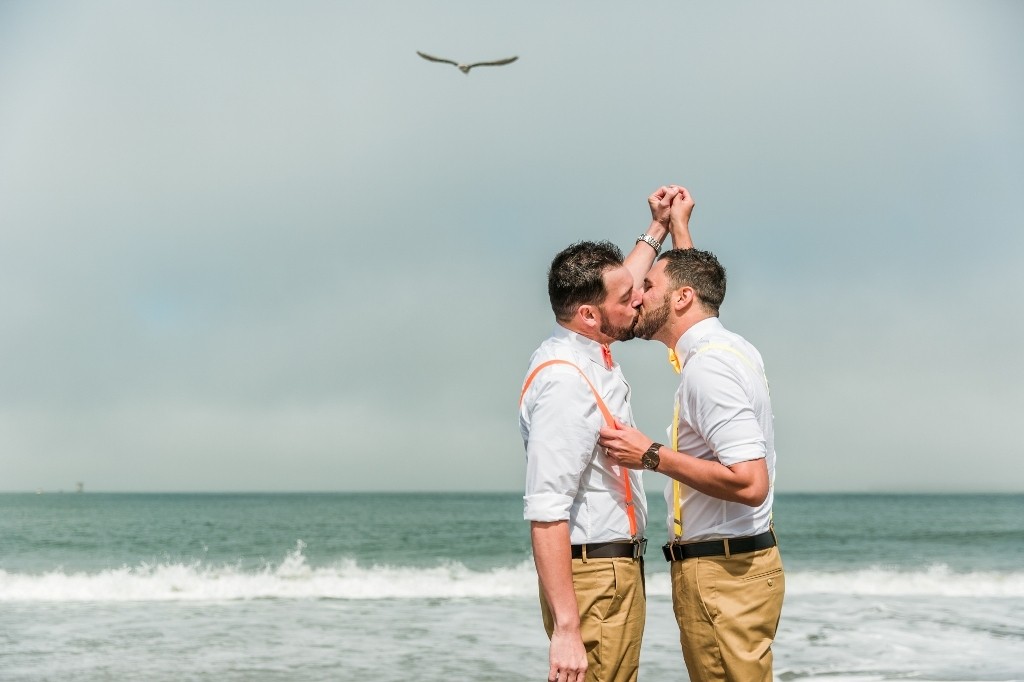 We've got this. Love always wins!
In Summary
I don't believe that couples are going to stop getting married for the duration of this pandemic. In my experience, love always wins. We will adjust, modify, make compromises, zig when we really want to zag. But we'll make it happen if we're committed. Love always finds a way.
But the "new normal" will apply to getting married just like everything else. (I've got news for you: the new normal in regards to being married/living together is more than a little adjustment too! But that's a different topic. )
Flexibility is the name of the game for the foreseeable future. Incorporate that into your wedding planning toolkit and–although your ultimate wedding memory may be a far cry from your original vision–you'll end up with an intimate experience that will be second to none. (Plus… you know… a really good story to share down the road.)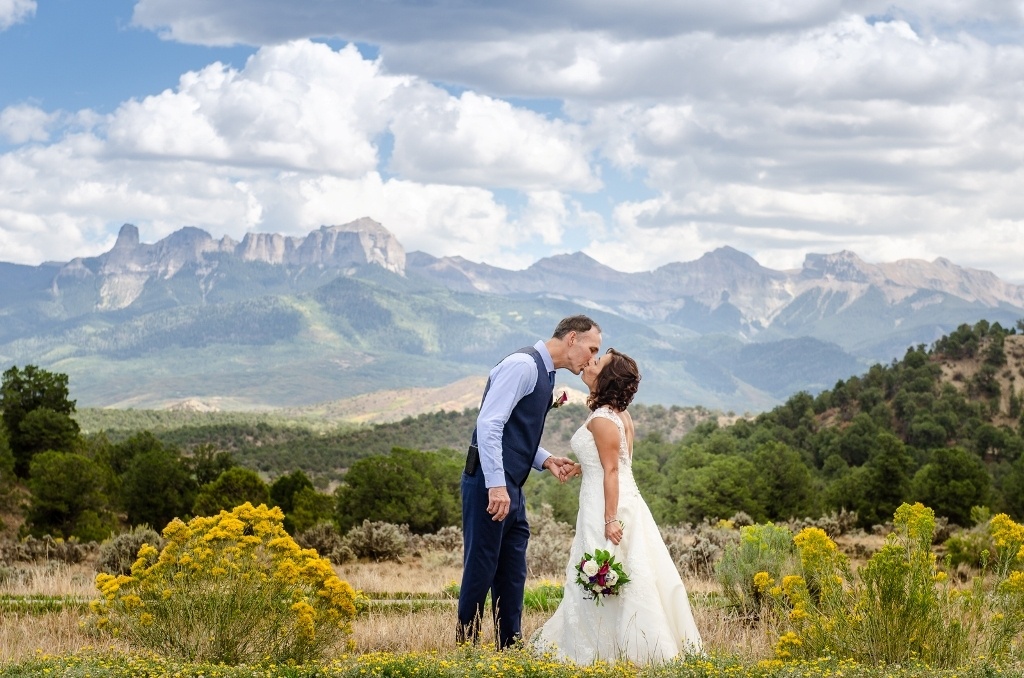 Bottom LIne…
I've been doing this since 2002. Not my first rodeo, not my first challenge. (My first pandemic, tho!)
No worries. We got this!