An Aspen Winter Elopement for Leslie and Bo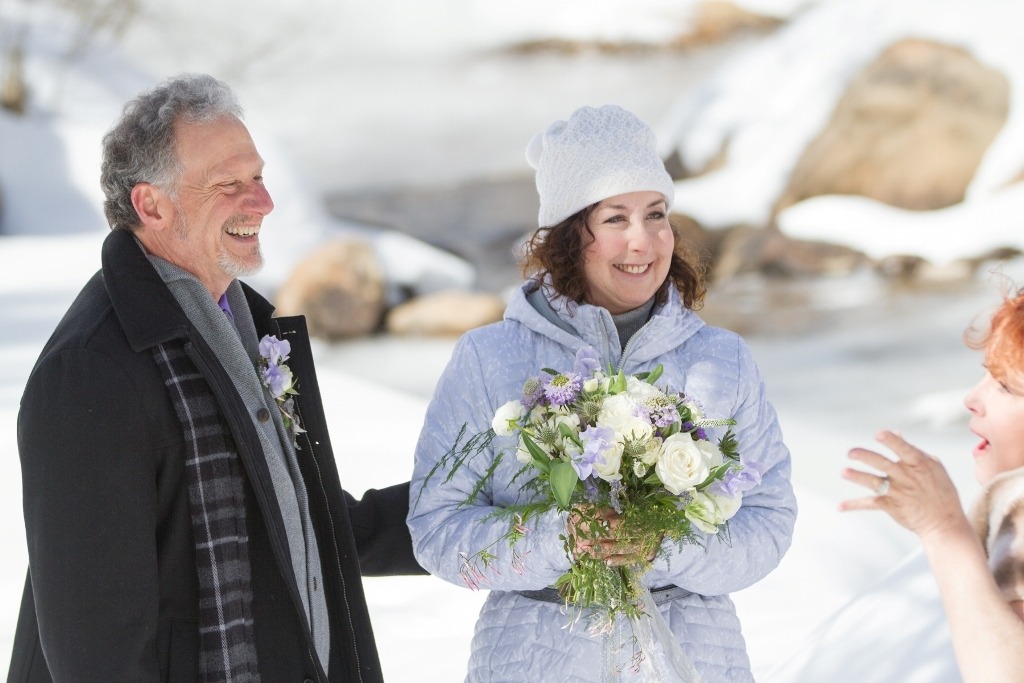 Aspen holds a special place in Leslie's heart as she used to come here as a kid in summers with her dad to fly fish. She and Bo had never been here in winter but were willing to give that a go for their Aspen winter elopement at the end of February.
The day was filled with smiles and laughter for these two. Notice how Leslie wore a white knitted hat for the ceremony and then switched to a fuchsia cap for their post-wedding photos! Tres chic!
And I just love the way they look at one another.
Bo and Leslie came to Aspen from Kansas and were married alongside the creek in the heart of Aspen with the snowflakes and mountains as their only witnesses. (Well, except for our photographer and officiant, that is.)
After they were married, they made a vacation out of their time here and enjoyed the beauty of the Aspen winter.
But…back to their wedding…
Leslie gave our florist lots of latitude with the bouquet, requesting only creams and whites with a bit of lavender added. Oh yeah–and stick in a few roses while you're at it.
It turned out stunningly beautiful.
Leslie heeded my advice to wear boots under her wedding skirt. Wet feet makes for unhappy brides. And her whole ensemble was totally adorable.
And did I mention there were coordinating gray sweaters under their jackets? I could not love this couple more!!!
Why did you choose an intimate wedding?
"We are blessed to have lots of family and friends, but just couldn't decide where to draw the line of who to invite. We decided to do something with just the two of us.
What words best describe your wedding day?
"Perfect! It was perfect."
What was the best thing about having an intimate wedding?
"The best thing about our tiny wedding was we did not have to worry about pleasing anyone else! We definitely did it our way."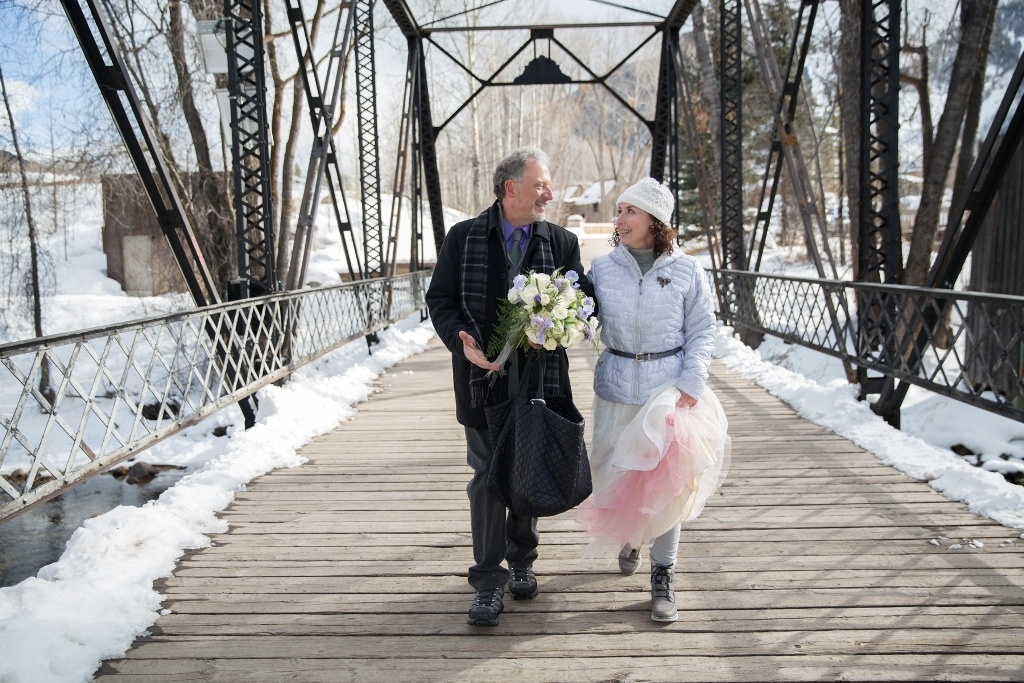 "It was just the best day!! We had so much fun.. You guys made everything so easy and stress free. We were both so happy with the entire experience. We can't thank you enough for making our tiny wedding so special and so fun."
"Maureen took all the pressure off us and we did not have to worry about anything!"
The following services were included in Leslie & Bo's Aspen elopement package: Officiating, Photography, Flowers, Coordination & Location Consulting